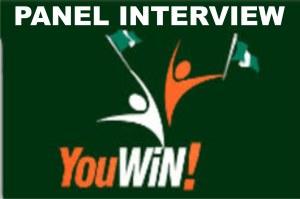 YOUWIN 3 MOCK PANEL INTERVIEW REPORT AND GUIDE IS HERE!
My Dear Millionaire Friend,
It gladdens my heart for a huge turnout of my millionaire friends that came to the mock youwin panel interview on Sat 2nd August 2014, at Osun state, Nigeria.
I met a lot of people for the very first time. It was exciting as people were taught how to defend their 10 million naira through their business plan.
NOTE: If you don't defend your business plan very well at the interview stage, you might not be thrown out of the competition but I guarantee you that your 10 million naira will be reduced.
At the mock panel interview, we also received the new template that will be used to interview you. We also did justice to that.
NOTE: The content you put in the template must be the one you can talk about and defend.
As a result of so many people that has been calling us for this report and the explanation of the template,
We are introducing to you the
THE YOUWIN 3 MOCK PANEL INTERVIEW REPORT AND THE YOUWIN3 TEMPLATE GUIDE.
What is the content of the report/guide?
30 Possible questions that the interviewers can ask you on your business plan for both existing and new business.
20 Tips to survive YOUWIN 3 Panel Interview
22 Preparation Check list for the panel interview.
Explanation on how to fill YOUWIN 3 PANEL REVIEW GUIDELINES.
How much is the report/guide?
Before, the report supposed to be N5,000 and the explanation of the YOUWIN template another N5,000 making total of N10,000.
Humm…, this may be another big money to raise.
I have discussed with my team. Because of the passion I have to raise minimum of 100 millionaire winners from this edition of youwin. We have agreed to reduce the price of  YOUWIN 3 MOCK PANEL INTERVIEW REPORT AND GUIDE .
The price is now just N5,000
I mean just N5,000 and you have access to all the information.
… Humm, when you win your 10 million naira, remember me oooooooooo.
To access the report,
Pay the N5,000 into any of these banks.
You can pay to any of these accounts through cash or online transfer
Bank: GT BANK
Account Name: Adetiloye Adedayo Patrick
Account Number: 0037218392
Bank: ACCEESS BANK
Account Name: Adetiloye Adedayo Patrick
Account Number: 0033807847
Bank: DIAMOND BANK
Account Name: HUNDRED AND FIVE ACADEMY
Account Number: 0041562713
After Payment, Send your payment details to:
08060779290, 08174584556 and/or dayoadetiloye@gmail.com
The payment details will include:
Name.
Phone number.
Email address.
Amount you paid.
The bank you paid to.
Your business idea/business location.
The report will be send to you immediately your payment is confirmed.
OTHER SERVICES WE CAN RENDER FOR YOU AT THIS CRITICAL TIME FOR A TOKEN ARE:
Reviewing the template after you have finished writing it yourself.
Professional write-up of your template:- this entails helping you with simple words that you can defend easily and coaching you on phone or face-to-face to be able to defend it.

Registration of your business name with CAC (A very quick one) if you have not done so.
NOTE: It is what you write on the template the interviewer will ask you questions on. So, don't be too complex in filling the template because this will only bring complex questions.
The only thing I can see is that you are a millionaire already.
It is your money, go and take it.
It is Nigerians like you that will interview you.
You must let the interviewers know that you really, really need this YOUWIN money for the singular purpose of your business.
I hope you will enjoy the YOUWIN 3 MOCK PANEL INTERVIEW REPORT AND GUIDE.
Till I hear from you,
Keep succeeding!
Dayo Adetiloye
…Raising 100 Young Millionaire Entrepreneurs in Five Years… since July 2012
08060779290, 08174584556