When a man wiser than me submitted that sometimes the chains that keep us from being free are more mental than physical, it rang a bell, but those words cannot ring truer than now.
Are you a Sleeping Giant?
What will our disposition be, if we knew that we will succeed if only we tried? What will it be if we realized that we are more talented, better informed and work harder than many millionaires out there? Can you imagine what your disposition will be if you realize that a major reason why you are nowhere near living your dreams is your fears?
If I ask how many people can prepare better fried rice and chicken than Mr Bigg's or Tantalizer, one million and one ladies would swear with their right hands that they can; ask how many people sew better shirts than Armani and a million young fashion designers would come forward. I can guarantee that most of them are not lying. So the million dollar question is, why are you still dependent on a salary to survive? Or why would you still be looking a job when you have skills that can make you a millionaire in a matter of months.
Out there today in our beloved country are men and women, young and old who can supply products and services far better than what the regular market can offer; some of them can even afford to offer them at half the accepted market price and still make good profit but many of these are still struggling with their finances- Yes, they have raw gold in their possession, and therefore have no business with poverty but yet they are engulfed neck deep in poverty. We can do it, but we are afraid of starting out. Afraid of failing, afraid of the unknown and worst of all many are afraid of losing someone else's money.
After Steve Jobs dropped out of college, he still stayed around trying his hands on a couple of things while trying to figure out his next move. Eventually he met and decided to partner with Steve Wozniak who had dreams similar to his and together the nerds began making computers. After a couple of products had appeared on their tables, they began to realize that this was way beyond a sphere of business existence where they have to walk door-to-door marketing their products, they began looking for partnerships that will bring them to business limelight and build sustainable systems. At this time, Mike Markkula was already retired but the boys knew he has the capacity to get them into partnerships that would yield the financial capital they needed to make their dreams reality. Eventually they were able to successfully convince the retired business mogul of the profit potential of the products they made and in a couple of months the few Billions they needed in funding was in their hands and Apple was born.
Imagine for a second what would have happened if Steve Jobs had held unto his product, trying to claim independence and proving to everybody that he needs nobody to succeed. Your guess is as good as mine; he probably would have died clenching it unto his side without anybody hearing about it.
Can you make better shoes than Louise Vuitton, or you can do good laundry or have a scarce and marketable skill, do you have a flyable concept? Then it is time to learn how to sell not just your product or service but yourself to your potential investors. No matter how juicy the financial potentials of a business may be, nobody will blink if your best shot at selling can't persuade your illiterate grandma.
Start from somewhere. Don't be a sleeping giant. People don't throw monies into imaginary business ventures. Everyone wants to see results and will begin believing you when they see one. Then you can begin to convince all around you. Take it up a little bit, write proposals, make presentations, request to meet with potential partners, apply to the Tony Elumelu foundation for a Venture Capital, apply for the YouWiN program, fight, fight, fight and keep fighting. Be bold and make specific logical business requests and one day the financial capital you need will not only be in your hands but also the partnership that yield results.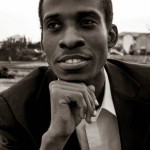 Igbokwe Ifeanyi is a writer, researcher and entrepreneur. He can be reached at Ifeanyi.igbokwe@gmail.com, 08032788811.