The Top 3 Network Marketing Businesses in Nigeria to Join to build Massive Wealth.
Network Marketing is one of the Multibillion business models in the world and this is where ordinary people transform into extraordinary people.
In Nigeria, with the current economic situation, you can actually have a plan B by joining a Verified Network Marketing Company. Do you need a retirement business, Network marketing can be an option for you.
LES BROWN a Motivational Speaker & TV Personality has this to say about Network marketing.
"Network Marketing has produced more millionaires than any other industry in the history of the world".
It is financial intelligence for you to have a plan B. It is also important for you to do a business that is recession-proof. Before you join any network marketing business, ensure you do your research and ensure you don't join a Ponzi Scheme.
There are thin lines between the Ponzi scheme and Network marketing.
Here are the major differences between Ponzi and Network Marketing.
Network Marketing is a system to sell products and services, While Ponzi scheme don't have product or services they sell.

Network Marketing will give you value for the money you paid, while Ponzi scheme, no value is exchange.
In-Network Marketing, your compensation is based on the products/services the company is selling. While Ponzi compensation plan is based on referral which will eventually crash when nobody is joining the business again.
BRIAN TRACY a Motivational Speaker & Best Selling Author has this to say,
"The future of Network Marketing is unlimited. It has probably made more millionaires of more people in more countries than any other form of business starting from nothing. There's no end in sight. It will continue to grow because better people are getting into it. It will become one of the respected business methods in the world".
Let's check the Top 3 Network Marketing Businesses in Nigeria.
Happy world Meal Gate
Recharge and Get Paid
Norland
Happy World Meal Gate:
It is a fantastic food-based product Network Marketing in Nigeria and owned by a Nigerian. It started in OCT 2016 and the company is 5 Years old. When you join, you will be given food as products. What I don't like about them is that, they increase their registration fee too often and that has created a lot of uncertainty about the business. The management has not given out car awards in the last 2 years. However, I love the food aspect and they have given out up to 200 Elantra cars. Their disadvantage is that they are not producing their own food product.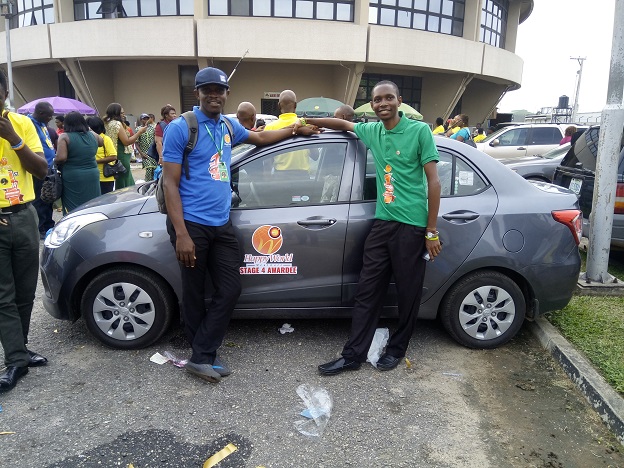 Recharge And Get Paid:
This business is owned by a Nigerian and it is about five years old. It is telecommunication based and I love the fact that you earn as you use your daily consumables like Airtime, Data, Cable and TV Subscription, and PHCN which we call Nepa bill.
Recharge and get paid has produced a lot of millionaires that have built the Network. The challenge they have is the payment of incentives and getting the platform to be 100% efficient. I look forward to a platform that you open and do transactions seamlessly and it can compete with the operational efficiency as a bank mobile platform for vending VTU (Virtual top up). RAGP is the business of the future, very promising but the management has to step up by building a platform that works 24/7. I love the fact that I can recharge and get paid, that is the beauty of the business.
Norland:
Norland is the game changer in the Network Marketing Industry. This is my preferred Network Marketing company you can join in Nigeria and build massive wealth based on the result that the company has produced or generated in the space of 3 and half years of activities in Nigeria.
Norland has origin from both China and America
It came to Nigeria in 2017 and since then till date, the company has given out 851 SUV cars. Yes, that is true and I confirmed it myself before writing this article.
Norland is a product-based Health and Wellness Network Marketing Company. They have over 40 products that has solved a lot of long-standing health issues in Nigeria, ranging from Ulcer, Cataract and Glaucoma, Diabetes, High blood pressure, Infertility, Weight loss, Hepatitis, Prostate, and different forms of cancer etc.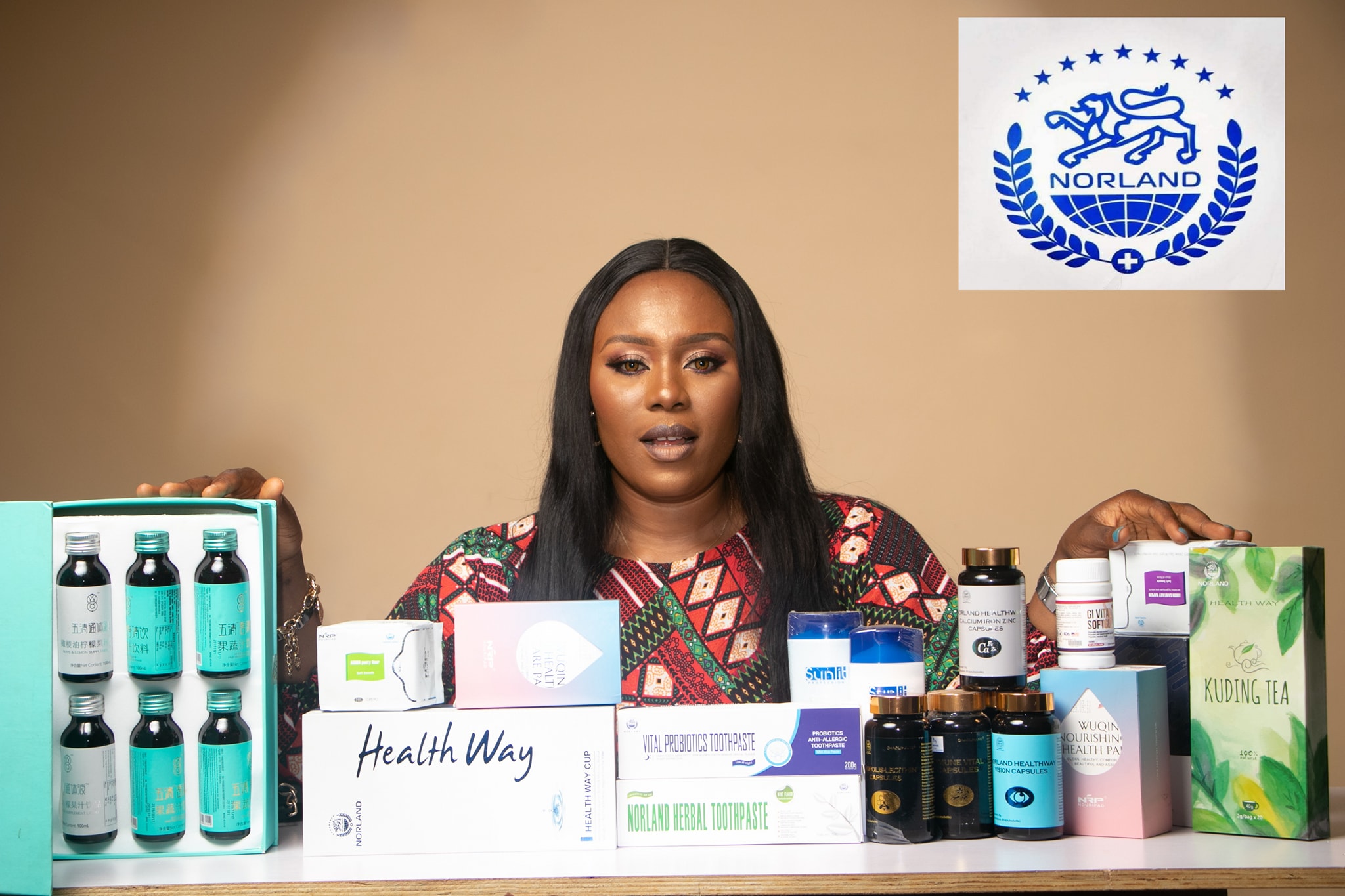 They have other daily use and consumables products like cordyceps coffee, kuding tea, sanitary pad, pant liner, body lotion cream, shampoo/body wash, and toothpaste. They also have energy bracelet, magic fry pan, alkaline cup etc.
All their products have positive reviews.
In the space of 3 and half years they have taken over 500 members on international trip to UK and Dubai. I can see that they are talk and do company. They have the best compensation plan and they have built houses for more than 11 top members that have gotten to that position in 3 years.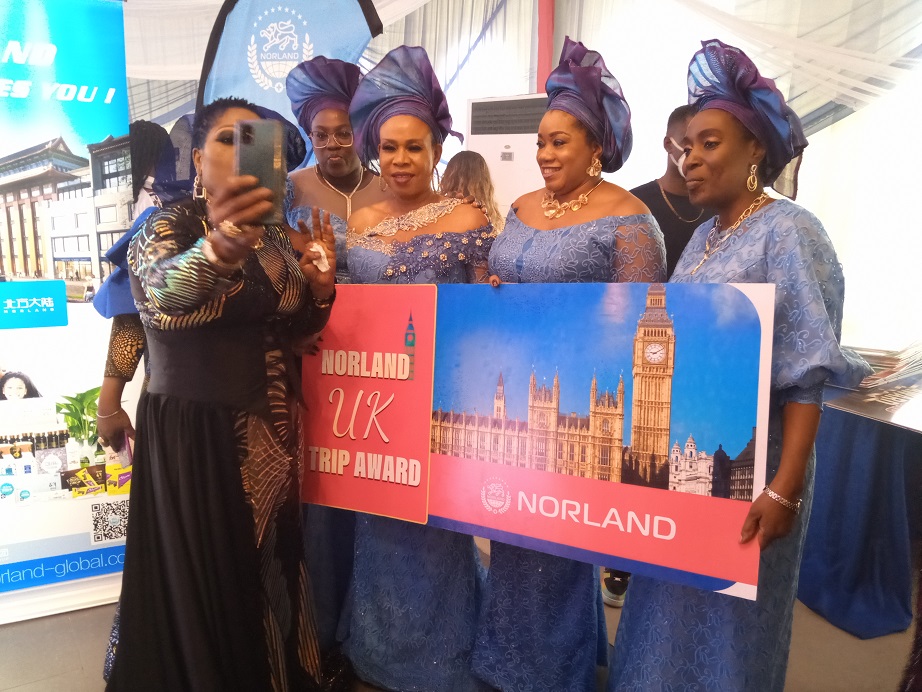 My only issue with the company is that, they manufacture all the products from abroad and they have not started producing in Nigeria. This technically makes the product to be more expensive to the lower class in Nigeria. But I know that by time they are 5 or 6 years in Nigeria, according to the NAFDAC regulations, they will have to build a production centre in Nigeria.
One more thing, they pay their distributor every week and once a month – that makes 5 times a month.
When I joined this business, and I saw how robust the company compensation was and how truthful and real they are, I quickly joined as a Diamond member and since then I have been receiving payment almost every week and I was even recently recognized as a silver medalist.
This week the company is doing a promo for any new member that want to join.
Here are the packages to join with. (The money you drop is the product you will be given opportunity to select yourself).
N87,000 Senior Member

N167,000 Bronze Member

N350,000 Silver Member (Good package)

N700,000 Gold Member (Better package)

N1,350,000 Diamond Member (Best package)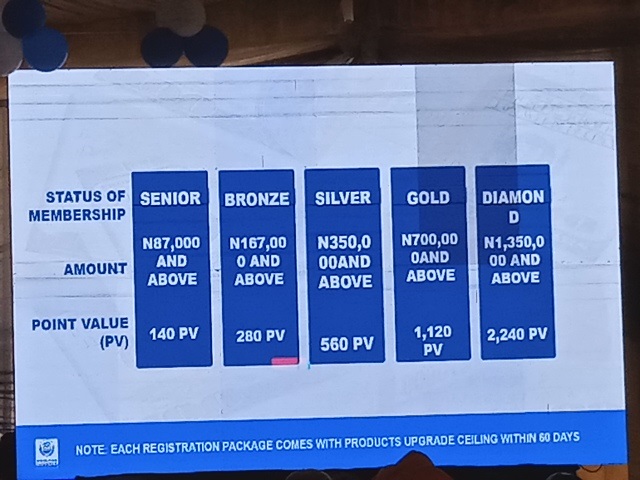 Let me advise you, if you want to build massive wealth in this business join with Diamond package, Gold package or Silver package. Those are designed for you to build massive wealth as a leader that is ready to work. Then think of multiple accounts as you join.
Note: You have just 60 days to upgrade your account to any level you want to take it to. e.g. you started with senior member (N87,000) you have 60 days to upgrade it to any of the upper level till the final level, after 60 days you will not be able to do so again and if you are a hard worker like me, you will start losing money.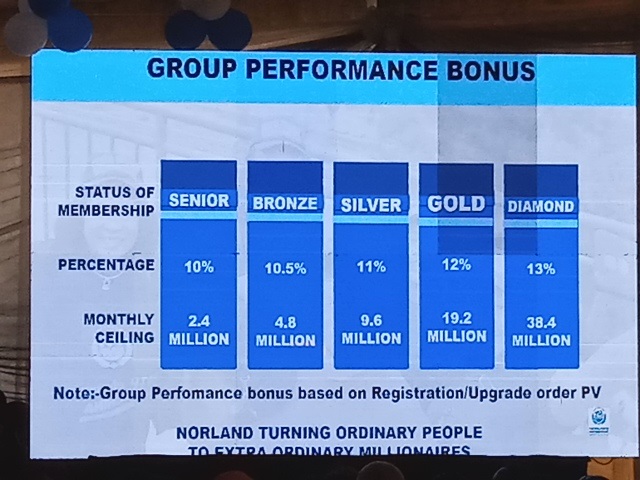 To benefit from the promo, you will have to join my team.
Here is the benefit of joining my team.
We will deliver your product to you free of charge

We will give you my book titled "How to get to the top in any Network Marketing business that worth N25,000 free of charge" + other bonuses like other Network Marketing books.

We will give you 5 video trainings, that will help you learn all the Norland business inside out, ranging from product presentation, compensation plan, secrets of the successful and high achiever in Norland.

We will give you a downline free of charge that is hardworking to support you in the business.

We will come and do 3 seminars for you in your location if you can use the company seminar letter to secure seminars with organizations in your location or outside your location.

If you decide to be a stockist, we will massively patronize your stockist center for the first 3 months so that you can regain a part of your N6, million investment back and lots more.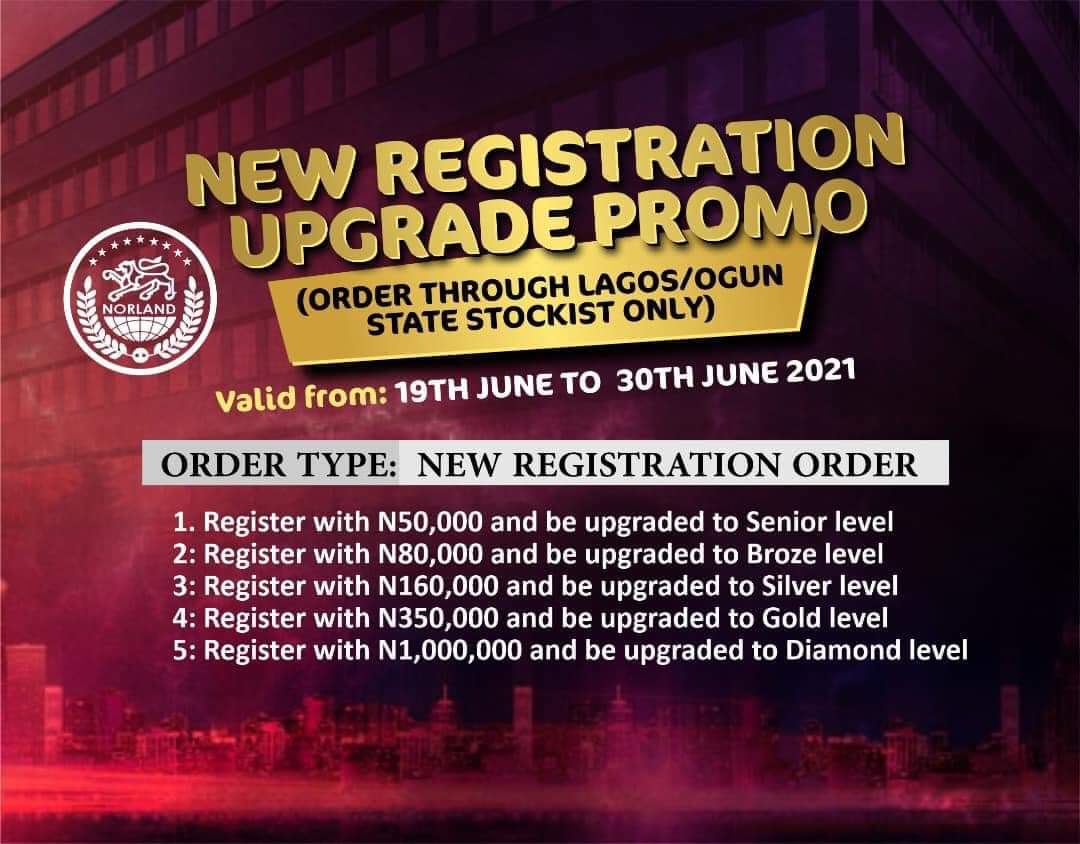 If you want to benefit from the ongoing promo by joining our fastest growing team in Africa call or WhatsApp me now 08039479877. or use this link 2348039479877https://api.whatsapp.com/send?phone=2348039479877
Top Influencers like Bill gate, Robert Kiyosaki and Donald trump the former president of the US recommend Network Marketing.
Look at what they have to say
DONALD TRUMP
Former President of the USA, Businessman, and Author of Best Selling Book.
When Donald  Trump was asked what he would do if he were to start all over again, he said- "I would choose a good network marketing company and get to work".
BILL GATES 
Business Magnate Of  USA & Philanthropist
"If I would be given a chance to start all over again, I would choose Network Marketing".
ROBERT KIYOSAKI
Best Selling Author & Businessman.
"Network Marketing gives people the opportunity with very low risk and very low financial commitment, to build their own income-generating asset, and acquire great wealth. It has the potential to save the United States and the world because it teaches people not to be employees, but to be entrepreneurs".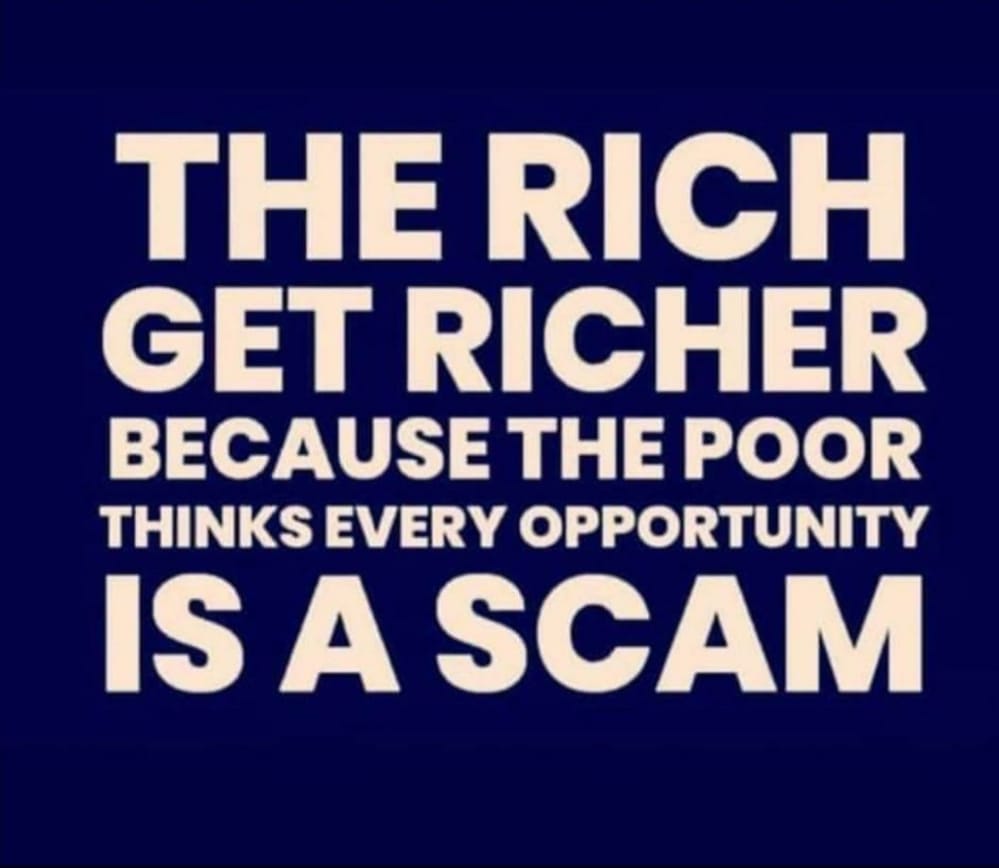 My friend, what is your fears?
It is not everything that is scam. All these people in this picture cannot be wrong. POOR means Passing Over Opportunities Repeatedly. Do you have a Job? Job means Just Over Broke. Most people, their take-home cannot take them home. I only want you to have multiple streams of income. I want you to have plan B. That is why I am taking pains to explain this business to you in detail.
Chat me now let's start this business and build together. Just trust my mentorship.
This evidence in this business is too much to be denied. Chat me up now on 08039479877. https://api.whatsapp.com/send?phone=2348039479877