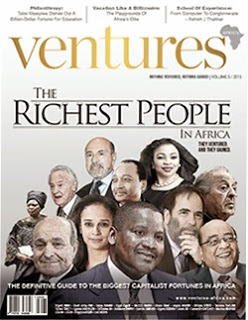 Ventures Africa magazine has released their list of the top 10 Richest People in Africa 2013.
The combined fortune of Africa's 55 billionaires is $143.88 billion. The average net worth of the members of this exclusive club is $2.6 billion, while the median age of the richest people in Africa is 65 years. The oldest billionaires are Kenyan industrialist, Manu Chandaria, and Egyptian property tycoon, Mohammed Al-Fayed, both aged 84. The youngest billionaires are Mohammed Dewji of Tanzania and Igho Sanomi, a Nigerian oil trader. They are both 38 years old.
Nigeria, South Africa and Egypt lead the pack with the highest number of billionaires at 20, nine and eight respectively. Algeria, Angola, Zimbabwe and Swaziland only have one billionaire each. In all, there are 10 African countries represented on the list.
Three women made it into the rankings. The richest of them is Folorunsho Alakija, a Nigerian fashion designer and oil tycoon worth some $7.3 billion by our estimates.
1. Aliko Dangote
$20.2 billion
Industry: Manufacturing
Country Of Citizenship: Nigeria
Age: 56
Marital Status: Married
Africa's richest man started building his fortune three decades ago after taking a business loan from his maternal uncle to begin trading in commodities such as flour, sugar, rice and cement. In the early 2000s, he started producing these items himself. His Dangote Group is now the largest manufacturing conglomerate in West Africa and owns sugar refineries, salt processing facilities, a beverage manufacturer and a string of cement plants across Africa. In October 2012, Dangote sold a controlling stake in his flour milling company to Tiger Brands, a South African manufacturer of consumer goods. He pocketed $190 million from the sale. Dangote's biggest asset is Dangote Cement, a $20-billion (market cap) cement manufacturer with operations in 14 countries and an annual production capacity of 30 million metric tonnes. In June this year, South Africa's Public Investment Corporation acquired a 1.5-percent stake in the company for $290 million. Dangote is also Africa's most generous philanthropist. Within the last 12 months, he has given away over $100 million to causes ranging from youth empowerment to flood relief, religious causes and education. His younger brother, Sani Dangote, is Vice Chairman of Dangote Group.
2. Allan Gray
$8.5 billion
Industry: Financial services
Country Of Citizenship: South Africa
Age: 75
Marital Status: Married
This media-shy South African moneyman controls two investment companies that collectively manage over $50 billion in assets. After Gray received an MBA from Harvard, he worked for eight years at Fidelity Management and Research in Boston before returning to Cape Town in 1973, when he founded Allan Gray Limited, now the largest privately owned asset manager in South Africa. It is also the most successful with assets under management at approximately $30 billion. According to inside sources at the company, Allan Gray's global mandate share portfolio has achieved an average annual return of 28 percent since 1974. Keys to success include rigorous research and the consistent application of Allan Gray's ages-old and time-tested investment approach of buying heavily into companies whose share price is less than their intrinsic value. Gray is also the founder of Orbis, an asset manager in Bermuda, which he founded in 1989. Orbis has over $21 billion under management. Gray's son, William, is President of Orbis and equally serves as portfolio manager of the Orbis Funds. Gray and his family are the controlling shareholders of Allan Gray Limited and Orbis. In 2007, Gray endowed his Allan Gray Orbis Foundation with $130 million, the single largest charity gift in Southern Africa at the time. The foundation funds scholarships for poor but promising South African high school students.
3. Mike Adenuga
$8 billion
Industry: Oil, telecoms
Country Of Citizenship: Nigeria
Age: 60
Marital Status: Married
Nigeria's second richest man made his first fortune in his mid-twenties by distributing lace fabrics and Coca- Cola, and by handling lucrative government contracts during the regime of former Nigerian military President, Ibrahim Babangida. In the early nineties he founded Conoil Producing, an indigenous oil exploration and production outfit that was the first Nigerian company to strike oil in commercial quantities. Today, Conoil Producing's assets produce more than 100,000 barrels of crude a day. Adenuga's other holdings include Globacom, a Nigerian mobile telecommunications network that boasts more than 25 million customers in Nigeria and Republic of Benin. He also owns a 74-percent stake in Conoil PLC, a petroleum marketing outfit listed on the Nigerian Stock Exchange.
4. Folorunsho Alakija
$7.3 billion
Industry: Oil
Country Of Citizenship: Nigeria
Age: 62
Marital Status: Married
Africa's richest woman sits atop Famfa Oil, a Nigerian oil company that owns a 60-percent stake in OML 127, one of Nigeria's most prolific oil blocks located at Nigerian offshore Agbami deepwater field. Daily production at OML 127 stands at over 200,000 barrels per day. Alakija studied fashion design in England in the eighties, returning to Nigeria to found Supreme Stitches, a Nigerian fashion label which enjoyed patronage from the more successful women in Nigerian high society. One of her clients was Maryam Babangida, the wife to former Nigerian military President, Ibrahim Babangida. Alakija is believed to have ridden on the crest of this relationship to acquire an oil block in 1993 at a relatively inexpensive price. Famfa immediately entered into a joint venture agreement with Star Deep Water Petroleum (a subsidiary of Chevron and Brazil's Petrobas), ceding a 40-percent stake to the two companies. Famfa owned a 60-percent interest in the block until 2000, when the incumbent Nigerian president, Olusegun Obasanjo, forcefully acquired a 50-percent stake in the block, transferring it to the Nigerian National Petroleum Corporation – a government-owned oil company. Famfa Oil immediately went to court to challenge the acquisition in a case that dragged on for 12 years. In May 2013, the Nigerian Supreme court reinstated the 50-percent stake to Famfa Oil. Alakija also owns $200-million of real estate in the United Kingdom.
5. Nicky Oppenheimer
$6.5 billion
Industry: Mining, investments
Country Of Citizenship: South Africa
Age: 68
Marital Status: Married
Diamonds are not forever. In November 2011, Nicky Oppenheimer made the momentous decision to sell off his family's stake in De Beers, the world's largest diamond producer, to mining behemoth Anglo American. The landmark $5.1-billion deal ended the Oppenheimer family's eight-decade control of De Beers, which began when Nicky's grandfather, Sir Ernest Oppenheimer, took over the firm in 1927 and consolidated the company's global monopoly over the world's diamond industry. In 2011, E Oppenheimer & Sons, the family-owned investment firm which Nicky controls, partnered with Temasek, the investment firm of the Government of Singapore, to form Tana Africa Capital, a $300-million private equity fund that invests in the fast moving consumer goods (FMCG) and agriculture sectors.
6. Johann Rupert
$6.1 billion
Industry: Luxury goods and retail
Country Of Citizenship: South Africa
Age: 63
Marital Status: Married
Johann Rupert is the chairman of Swiss-based luxury goods company, Compagnie Financière Richemont SA, which owns premium brands such as Cartier, Dunhill, IWC Schaffhausen, Piaget and Vacheron Constantin, among many others. It is the sixth largest company on the Swiss stock exchange and the third largest luxury goods company in the world. Johann's father, Anton Rupert, founded a small cigarette manufacturing operation, Rembrandt, in his garage in 1941 with a £10-investment. Rembrandt became incredibly popular among young South African smokers and by the 1950s, was already one of the leading tobacco firms in the continent. Anton, ever the visionary, diversified from tobacco into the industrial and luxury branded goods sectors, splitting Rembrandt into two divisions: Remgro (an investment company with financial, mining and industrial interests) and Richemont (the Swiss-based luxury goods group). Johann is chairman and the largest individual shareholder in both companies. He also owns two of South Africa's best-known vineyards, Rupert & Rothschild and L'Ormarins, and founded the Franschhoek Motor Museum, which houses his personal collection of over 200 antique motor vehicles.
7. Nassef Sawiris
$5.2 billion
Industry: Construction
Country Of Citizenship: Egypt
Age: 53
Marital Status: Married
Nassef Sawiris is the youngest of the three sons of Egyptian billionaire and founder of the Orascom conglomerate, Onsi Sawiris. He heads Orascom Construction Industries (OCI), one of the largest companies in the North Africa region. In January this year, Nassef announced that OCI was exchanging all global depositary receipts of the company for newly issued shares of OCI NV on the NYSE Euronext in Amsterdam or in exchange for cash. A consortium of investors, including Microsoft founder Bill Gates, provided the $1 billion in fresh capital required to pay off investors. The overwhelming majority of the shareholders accepted the buyout offer, which subsequently led to the company's delisting on the EGX. Nassef also serves as a director at Lafarge, the French cement giant, and the Dubai international Financial Exchange.
8. Gilbert Chagoury & Family
$4.2 billion
Industry: Construction
Country Of Citizenship: Nigeria
Age: 67
Marital Status: Married
The Nigerian-Lebanese industrialist and diplomat is a co-founder of the Chagoury Group, a large, multi-faceted Nigerian conglomerate with interests in manufacturing, construction, real estate, hospitality and healthcare. Gilbert was born in 1946 in Lagos by Lebanese immigrant parents. After studying at the College des Freres Chretiens in Lebanon, he returned to Nigeria where he kick-started his business career. In 1971 he started GrandsMoulins du Bénin Flour Mills, a milling company in Cottonou, Republic of Benin, which formed the foundation of the Chagoury Group. Today, the Chagoury Group owns five flour-milling companies in Nigeria and Republic of Benin. Chagoury's milling operations collectively produce over 3,700 metric tonnes of wheat flour every day. The Chagoury Group also owns a glass bottle manufacturing plant and a plastic bottle manufacturing operation. Other assets include Eko Hotel, a five-star Hotel in Lagos, and Hotel Presidential, a five-star hotel in Port Harcourt. One of the newer companies within the group is South EnergyX, a real estate development company that is developing Eko Atlantic, a new $6-billion metropolis on land reclaimed from the Atlantic Ocean. When completed, Eko Atlantic is expected to provide residential accommodation for up to 250,000 people. Chagoury's property portfolio also includes Ocean Parade, a series of 14 tower blocks overlooking a lagoon in Banana Island, Nigeria's priciest residential community. Gilbert Chagoury's career has not been without controversy. In 2001, in a British court, he admitted to helping the family of deceased Nigerian dictator, Sani Abacha, transfer $300 million into foreign accounts. He returned the money and was indemnified of charges.
9. Nathan Kirsh
$3.6 billion
Industry: Real Estate, Distribution
Country Of Citizenship: Swaziland
Age: 82
Marital Status: Married
Nathan Kirsh made his first fortune after he founded a successful corn milling business in Swaziland. He deftly reinvested his profits in food distribution and real estate. The bulk of his fortune is held in various property and distribution companies. His investment company, Kirsh Holding Group, owns a 50-percent stake in Swazi Plaza Properties – the company that owns the largest shopping mall in Swaziland. He also owns a 29-percent stake in Minerva, a London-based property developer, and a 63-percent stake in Jetro Holdings, which operates Jetro Cash and Carry stores and Restaurant Depots in the New York City area. Jetro enjoys a near monopoly in supplying wholesale goods to small stores and restaurants in the New York City area and had revenues of over $6 billion in 2013. Kirsh is also the largest individual shareholder in Magal Security Systems, a developer and supplier of control systems and intruder detection systems.
10. Christoffel Wiese
$3.4 billion
Industry: Retail
Country Of Citizenship: South Africa
Age: 72
Marital Status: Married
The South African businessman is the chairman and greatest individual shareholder of Shoprite, Africa's largest discount retailer. After studying Law at the University of Stellenbosch, Wiese took up a job as an executive director at Pep Stores, a discount clothing chain his parents co-founded. In 1979, Pep Stores diversified into groceries through its acquisition of Shoprite, a small South African retail chain. When Wiese became chairman of the company in 1981, he changed the company's name to Pepkor and made a series of acquisitions including Ackermans, a prominent clothing chain. He went on to list Shoprite on the Johannesburg Stock Exchange. He owns a 15-percent stake in the $7-billion (market cap) company. While his Shoprite stake remains his biggest asset, he also owns significant stakes in other Johannesburg Stock Exchange-listed companies, including Invicta Holdings, PSG Holdings, Tradehold, and private equity firm, Brait. Other assets include a private game reserve in the Kalahari and Lourensford Wine Estate.