Top Eleven (11)  most profitable Small Scale Businesses in Nigeria
Today, I will be introducing you to the top ten (10) highly lucrative or profitable small scale business anyone can start here in Nigeria. I can assure that I am either presently doing one of these businesses or involved with a friend who is involved in them. I tell you, they are easy to my do, profitable and has great potential for growth. All of these busineses fall into a category that I will call the basic backbone of any growing economy. So sit back and relax as I take you through this highly educative and entreprising tour.
A business Agreement is an important document in a business relationship, but with so many types of agreements and using an agreement template makes the task much easier.  There are many types of agreements such as loan, operating, buy-sell agreement, and many more.
First of all, what is a small scale business?
A small scale business is a type of business idea that requires little or no capital to start which can either be managed through sole proprietorship, Partnership, Private or Public Limited Companies. It is also known as a Small and Medium Enterprise (SME) which has great potential and impetus to improve our nation's industrial transformation and progress.
The several types of small scale business existing in Nigerian can be categorized into diverse sectors ranging from Services, Manufacturing, Processing, Educational and so on. These small scale businesses have brought development, poverty reduction and wealth creation to many countries of the world making them independent and self-sufficient. They have also proven to reduces the level of unemployment in every country where they where encouraged.
In Nigeria, Small and Medium Enterprises (SMEs) accounts for 48% of total Gross Domestic Product (GDP) generated in the nation which represents about half of Nigeria's GDP. SMEs also accounts for over 25% of employment in Nigeria which makes it suitable for business people to venture into successfully. Hence, it is of no doubt that small firms are the backbone of any economy.
According to the Enterprise Baseline Survey in the year 2012, it was revealed that there are 17 million Small and Medium Scale Enterprises in Nigeria, employing 32.41 million persons and makes a contribution of about 46.54 per cent to the nation's GDP in nominal terms. Good news, isn't it?
But here is its woe!
There is a high level of competition amidst these Small and Medium Enterprises (SMEs) due to the absence of proper regulation of such small businesses. This makes the businesses vulnerable to so many shameful and substandard process, hence, most SMEs liquidate within the first five (5) years of initiation and a few others continue to the sixth year and many others go into extinction by the tenth year. In view of this, your ability to strictly follow the due process as a business person can make you stand out in the midst of several deficient competitors.
The truth is; there is actually no business you want to do that you cannot do as long as you have little finance to start or have access to funds, access to the technology involved, managerial capacity and acumen, technical know-how, access to raw materials and your target market who needs your product. However, you must not undermine the importance of getting your business registered as soon as possible in order to be recognised as a legal entity especially in sourcing for contracts and government funds.
Now, Nigeria's top eleven (11) most profitable Small Scale Businesses in Nigeria

Below are the businesses known for profit generation from time immemorial, especially with the good application of high quality raw materials to produce great end products as well as an excellent producer – consumer/retailer relationship.
The businesses are as follows:
Small chops – Yes, everybody loves to snack before the real meal gets ready or when stuck in traffic and there is a rumble in your stomach. Apart from personal consumption, these small chops (such as sausage rolls, peppered gizzards, puff puff, goat meat, fish rolls, meat pies, fish pies, samosa, plantain chips, doughnuts, potato chips, spring rolls, snails, chicken strips etc.) are usually used to celebrate birthdays, weddings, burials, gatherings, events, business meetings, conferences and so on. Once you are known for delicious small chops, your first set of customers will do the referrals and marketing on your behalf and all you have to do is keep up with the date, get helping hands as a team depending on the quantity and start counting your profit. You can also incorporate the supply of small sized pizzas in this particular business to give an inter-continental impression.
Cakes – Cakes represents seasons and times especially birthday celebrations. Everyone on earth keeps growing and majority will at least buy a cake to mark his or her birthday. All you need to do is print some flyers if you want to go mobile or do a word-of-mouth awareness within your vicinity. You can also start by giving out little cupcake as free gift to people to start their day. Other customers are sure to come by referrals from those that enjoyed the delicious cake. There are diverse kinds of cakes to try your hands on depending on its flavor and make-up ingredients, they range from spiced cakes, raspberry coffee cake, cupcakes, coconut cake, butter cake, fruit cake and so on.
Party Drinks – Provision of drinks can go along side with small chops or you can act as a sole provider. These drinks also vary in methods and taste to fulfill the desire of every potential customer while you count your bucks. Diverse kinds of local and inter-continental drinks which you can invest your time and skills into are spicy chocolate drink, ice cream, yoghurt, fruit wine, spiced tea, smoothie, kunun zaki, zobo drink.
Private school teaching – This is one of the businesses that need no capital at all for raw materials. All you need is your passion to pass adequate knowledge to younger students. You can expand your coast by pasting a few flyers and telling the children you are teaching to inform their friends who will in turn inform their parents. For instance, getting to teach a student for a minimum of #15000 per month, just thrice a week. Now imagine taking two students, that's #30000 a month, 4 students, that's #60,000. How about 8 students, thats a whooping #120,000 a month. As time goes on and your impact felt, you can rent a small class for evening use with a little token due to increasing students' population which needs effective management for continuity.
Learn How to Use Your Phone to Make Millions Through 
Hair styling / Barbing – All you need to remain relevant in this business is your skill. Your joviality and closeness to your customers is an added advantage. Most people like being in a good conversation with their stylist which removes boredom from the environment, however, it is necessary to study your customers to know their nature, some people might like to keep to themselves or read a book or newspaper. Don't try to be a constant bug to such consistently quiet people, it could lead to a loss of customer.

Watch Video: How to get Tony Elumelu $5000 grant to start any of the small business in 2018. Ensure you subscribe to my YouTube channel for updated Trainings

Rental services – This business entails investing your little cash into the purchase of party materials such as canopies, plastic chairs, plastic tables, standing fans, mobile air condition, decoration materials, flowers, coolers, plates and spoons, plastic drums, fire potential, etc. Once this investment has been done, the rest of the story is getting your profits as people hire your materials per quantity for events. All you need to emphasize on is the good maintenance of the materials once it gets into the custody of your customers.

Computer training – There are still several young students and a few adults without computer literacy. Your target market can begin with fresh secondary school graduates who need computer knowledge for university exams. Charge them daily, weekly or monthly as you teach them the skills they need to know. Referrals can be encouraged with commission or other special treatments, and then you can encourage them to buy their laptops as the population increases and teach them with a projector.
Bakery – Bread is one of the foods we love to consume as Nigerians which can be combined with butter, mayonnaise, beans, honey, tea, bean balls and so on. Almost every junction in our society has a bread seller but you can distinguish yourself by taking advantage of the existing varieties of bread. Varieties of bread include chocolate bread, milk bread, fish bread, wheat bread, whole grain bread, coconut bread, honey bread, sausage bread etc. Provision of oven grilled sandwiches can also be incorporated into this bakery business as bread and sandwich appears to be from the same parent. Sandwich basically consist of vegetables, sliced cheese or meat, placed on or between slices of bread, or more generally any dish wherein two or more pieces of bread serve as a container or wrapper.
Catering services – This entails the provision of party foods (continental dishes and local dishes) for big events and celebrations. Foods provided could include Ofada rice, Coconut rice, Jollof rice, Amala, Pounded yam, Semovita, Moi-Moi, Salad and so on depending on the customer's choice. This can be in the form of mobile food canteen or operated strictly by demand. This particular business requires skilled hands as a team with a good level of experience because a single mistake in this business can lead to its end. One advantage of this business as well is that part if not all of the cost of the service must have been calculated by quantity and paid by the customer for the purchase of ingredients needed and logistics purpose. This means that, apart from your innate skills, you only need the fixed assets (which can be rented) such as cooking pots, cutleries, etc. to start this business.

Click here to get our business plan writing Course and become a highly paid business plan writing consultant https://www.dayoadetiloye.com/bpp/

Makeup/Head gear tying– This is the 21st century business as everyone is concerned about their looks and head gears. Having this skill implies that you can get to any event location with a tag (Head gear/ Gele expert). When you get called, tie the Head gear professionally, ensure the person loves it, and then name your price while convincing the person that it is your business. You can also market your business with your looks, which is your head gear and make up. As people compliment you, you tell them it is your job and hand over your business cards to them. More marketing can be enhanced on social media and other platforms.
11. Build an eCommerce Website: Selling products online is one of the best ways to make money. Anyone can start an eCommerce website and sell things. All you need is the right product that sells well in the market. You can use product research tools to find trending products.
If you don't want to get involved in shipping and logistics, you can try selling on Amazon using the FBA program. Try using Helium 10 (Going on Spring Sale with 50% OFF) to get complete insights about which product to sell & what keywords to target.
To create an e-commerce store, you don't need tech and coding skills. It's available with one click using platforms like Shopify, Squarespace & WooCommerce.
With determination, consistency and good skill, the aforementioned businesses cannot be out of vogue, they are business that have existed since our grandmother's era and will continue till the next generation. People will always plait or cut their hair, whether you like it or not you will celebrate some events with small chops or food, students will never stop going to school or learning. All these salient points and lots more make it a big opportunity for you to start something.
The beginning may be small but I assure you that the future is beautiful!
Top Eleven (11)  most profitable Small Scale Businesses in Nigeria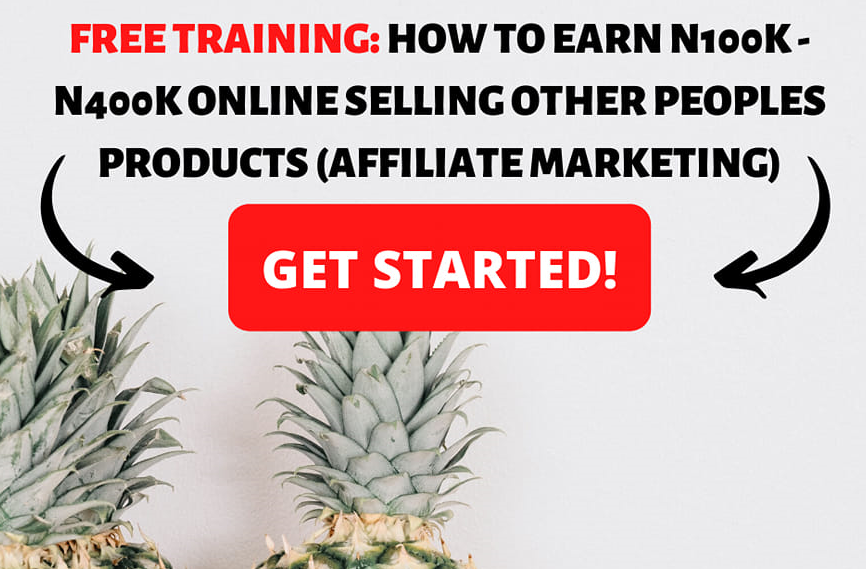 Click on the link below to start your affiliate marketing coaching now!
How to earn N100k – N400k online selling other Peoples products (Affiliate Marketing)
Watch my Training Video on How to attend Business Interview for Business Grants and other Training Opportunities
Bonus
Invest N50,000  to learn High Income Skill of Affiliate Marketing and start Selling Online Products as an Affiliate Marketer on Expertnaire immediately and Make x5 of your Money back within a short period of Recommending High Valuable Digital Products.