How I achieved 1000 subscribers and 4000 hours of watch and got accepted into the YouTube Partner programme to start earning from my videos.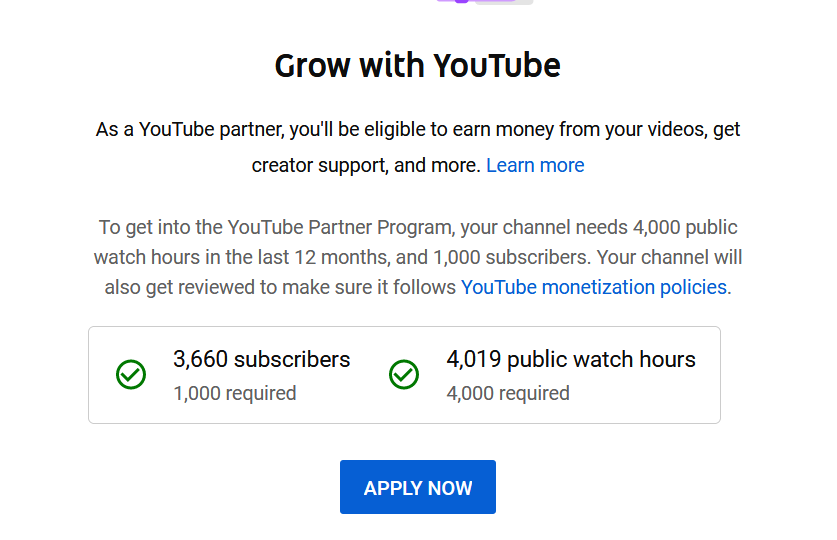 I posted my first YouTube video 5years ago, but it was just like another platform to have a presence. In the last six months, I deliberately wanted it to become another significant income source, and I knew I had to meet a milestone of the YouTube Partner programme.
I started searching the internet, and I found VidPride by @'Malik Haruna King, and of course, I follow his Ask Dr. Malik Health Youtube Channel.
So, I watched almost all his free video on Vidpride platform, and I watched to implement immediately. That was where i learnt about keyword research, TubeBuddy, and all the extensions that help in keyword research. I have been producing videos without keyword.
I took another step to purchase this amazing course YouTube Profits Blueprint. I made up my mind to watch all the videos, and I did it to 100% since he said most people don't complete it. Because of my goal of meeting my milestone, I focused on
Post-Production Stage
Channel Growth
Channel Monetization
Bonus Section
Congratulations
Resources Section
Implementation Plan
I just did a 50% implementation, and I met my milestone of YouTube Partner programme.
Today, I have started promoting this course through the Expertnaire platform
https://app.expertnaire.com/product/6752754464/6772786310 to sell this course as an affiliate.
This is to thank God and appreciate 'Malik Haruna King for your effort in putting this together.
For anybody reading this and targeting this milestone as a Youtuber, go and buy the course 'YouTube Profits Blueprint.' It takes time, but it's worth it.
Use my affiliate link to buy 'YouTube Profits Blueprint.' Course here.
https://app.expertnaire.com/product/6752754464/6772786310
Hello friend,
If you want to easily and quickly create a popular YouTube channel with thousands of loyal subscribers, make simple videos that magically generate millions of views, and make extra, consistent income daily…3
Then, this will be the most important guide you will ever read!
You are going to learn my exact strategy on:
How to grow a viral YouTube channel and turn it into a brand-building, money-generating machine in 90 days (or less)
…Even if you are terribly camera-shy…
…Even if you have never done videos before…
…Even if you don't know how YouTube works (zero-knowledge, zero-experience) …
…Even if you think YouTube is overcrowded & it's too late to start…
…And, even, if you all you have is a cheap, ordinary "china" smartphone!
In the course, we are showing you,
Here's What You Are Getting:
>> The Full Course: Over 20 detailed video tutorials so you can easily & quickly set up a popular & profitable Channel (Worth N200, 000)
>> The DEMO Sessions: Over 10 in-depth practical video sessions so you can know exactly WHAT to do! (Worth N100, 000)
>> The Downloadables: 10 PDF cheat sheets, scripts, & checklists so you can get things done FAST! (Worth N100, 000)
>> The Implementation Roadmap: Step-by-step guide so you know where to start and what to do next! (Worth N100, 000)
>> The Branding Pack: Professionally-designed graphics so you simply "Copy and Paste"! (Worth N30, 000)
>> The Coaching Support: FREE 30-day one-on-one support for the first 30 students (Worth N500, 000)
The Private Community: Dedicated Facebook group for connection, solutions, and support! (PRICELESS)

Use my affiliate link to get the course now.