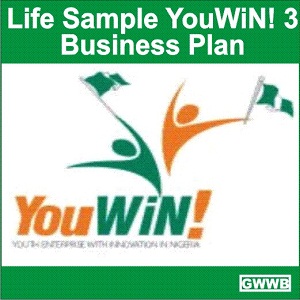 Sample YouWiN! 3 Business Plan
Use this as a guide to write your own YouWiN 3 Business plan today.
Don't postpone it till tomorrow.
Start now!
Youth Enterprise with Innovation in Nigeria
Business Application
Description
Describe your business
ANSWER: My business is poultry business. It is an existing business.
Words used: 0/20
Select your industry-sector
ANSWER: Animal Farming
Select an Option
Animal farming

Crop farming

Food & Restaurant

Building and Construction materials

Chemicals, industrial materials

Clothing, shoes and other personal items

Equipment, Machinery, Metal

Food and Drinks

Furniture, Wood Products

Others

Other (Specify)

Retail

Accounting, Finance and Management

Auto, electronics, others

Cleaning

Education

Engineering, Building and Construction

IT and Telecommunication

Legal

Media and Entertainment

Medical

Other Professional

Personal/Beauty

Transport
Other sector
Marketing
What benefits of the product or service enables your business to stand out from your competitors?
ANSWER:I raise and produce poultry birds and its derivatives
Our supplying strategy is one in town. We supply meat and egg to different quick service restaurant in south west. We brought a new way of packaging eggs for distribution. We have special way of producing big egg.
Words used: 0/50
Does this meet a particular need or demand (your competitive advantages, if any)?
ANSWER:Most meal in Nigeria is not complete without poultry input like meat or egg. Nigeria has over 170 million growing population which means a huge demand for egg and meat.
Words used: 0/50
Name five of your existing or expected top customers, How will you attract these customers to your point of sale?
ANSWER:1. Families 2. Individuals 3. Eateries 4. Food manufacturing companies 5.Resturant.
Attraction to point of sales through word of mouth, Radio, Tv Advert, Community leaders, religious groups, , internet presence, newspaper, distribution of handbills and pasting of posters/banners.
 Words used: 0/50
Management
How many new, full-time (or equivalent) staff will be employed in the business 12 months from receiving the first stage award?
ANSWER: 12

Describe the benefit you and your proposed staff will bring to the business, including: expertise, track record in the Industry and management experience
ANSWER:I have 10 years experience in poultry farming. I have worked in 5 major poultry farms in south west. Tolu our scientist is a graduate of Animal Science.
Dayo has Masters of Business administration and will be a strategy planner and our business development specialist.
Words used: 0/50
Product
Name your three largest existing/expected competitors. Which, if any, have a localised presence or distributor network?
ANSWER:
Ajanla farms- has been existing for over 10 years
Chi farms- has been there for 15 years
Oris farms- has been there for 5 years
Words used: 0/50
Describe the materials you will need to create your product or service. Are these materials readily available, at the right price and quantity, in your locality? If yes, please describe any relevant information
ANSWER: Our Animal feed will be sourced from Animal care.
Our Day old chick will be sourced from zartech
Battery cage- for intensive system
Words used: 0/50
Is there an existing or expected lead time for manufacture, set-up, harvest or breeding? If yes, give estimated lead times for each product?
ANSWER:Keeping of chicken from (Day old to)  fourteen weeks when the growers will be transfer to cages.  The caged birds at the  age of 19 – 22 weeks start to lay eggs.  The laying birds by the age of 60 to 75 weeks of laying, are sold out
Words used: 0/50
What risks or challenges might affect the success of your business, including: licences and accreditations (what can stop you from making this business a success)? How will you reduce or mitigate these risks?
ANSWER:The risks are disease, insufficient finances, active feeds, and security/theft.
Chicken will be monitored by veterinarians, maximum security, feeds materials will be sourced well, raise enough finances to start and sustain it.
 At this junction I will encourage you to get our GRANT WINNING WORKBOOK where you will get the full details of this YouWiN! 3 Business Plan Questions, Explanation, and Live sample.
Click here to get it. http://dayoadetiloye.com/salespage.html
You can also get my Free E-Book titled: 7 things I will do differently in YouWiN! 3 business plan competition Click here to get it http://dayoadetiloye.com/freegift.html
To talk to an expert on how to write your YouWiN! 3 business plan competition, Call me on: 08105636015, 08076359735, 08113205312 or Send me an email at: dayohub@gmail.com .