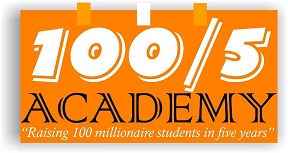 HUNDRED AND FIVE ACADEMY
IDEA- SKILL- VOCATION
Our Profile
Hundred and five academy is a social enterprise with a vision of raising hundred young millionaire entrepreneurs in our society in five years.
Our vision has driven us to come up with practical applications to support all the motivations and empowerment trainings we give our audience
We teach practical financial intelligence and entrepreneurship principles to all generations raging from age 7 and above.
SOME OF OUR WORKS/BUSINESS TRAINING/SPEAKING ENGAGEMENTS ARE;
1. HOW TO BE GAINFULLY EMPLOYED IN A JOBLESS WORLD, a seminar presented at Blessed Youth Organization, United Apostolic Church of Christ, Ibadan, Oyo State, 2013.
2. INVESTMENT: PANACEA TO BANKRUPTCY, seminar presented at Mountain of Fire and Miracle Ministries, Sabo, Ile Ife, Osun state, 2013.
3. BUSINESS LEADERSHIP ACADEMY. Surulere, Lagos. 2013.
4. Skill Acquisition and Entrepreneurship Development (SAED) of National Youth Service Corps (NYSC)(Ondo and Osun Camp) 2013.
5. RETIRE RICH TEACHER Seminar 2013, at St Peter Primary School, Ilesha, Osun state.
6. THE ENTREPRENEUR UNLEASHED Seminar, 2013, OAUTHC. Ile ife, Osu state.
7. ALL NIGHT BUSINESS SUMMIT 2013, OAUTHC, Ile Ife, Osun state
8. Annual Public Lecture of EXCEL ASSEMBLY FOUNDATION, Federal polytechnic Ede, Osun State 2013.
9. NEXT LEVEL SEMINAR (NLS 2013) BEYOND CERTIFICATE,OAU, Ile Ife.for undergraduates.
10. Starting and managing a successful business in Nigeria. at (BWC) FUTA, Ondo state, 2012
11. 7 Days Financial Intelligence Summit (FIS), OAU, Ile fe. 2012
12. IGBARA-OKE Youth Empowerment Summit (I-YES 2012), Igbara –Oke, Ondo state.
13. MONTHLY BUSINESS SEMINAR for Undergraduates, BOOB, OAU, Ile Ife, Osun state. 2012-2013.
14. Unleashing Your Entrepreneurial Potential BOOTCAMP for secondary school, at God is Able College, Iwofun, Ibadan, Oyo State.
Our faculty
DayoAdetiloye MBA,PMP,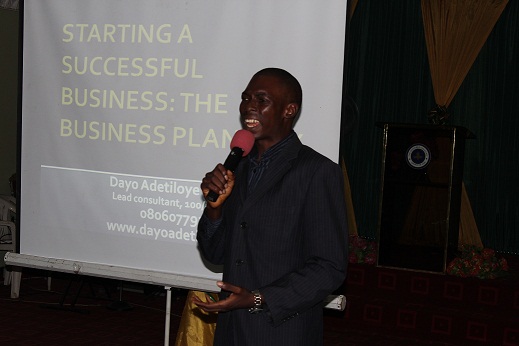 He is an Author, Empowerment Speaker, consultant, life coach, and CEO of 100/5 Academy and House of Patilad LTD. His passion is to help people to discover, develop and fulfil their business potential. Dayo run a blog at www.dayoadetiloye.com to reach out to youths on student entrepreneurship and how they can jump start their business dream. He seats on the board of 3 growing companies which are Life Moulding Academy, Edu'light educational resource centre, solid concrete block industry. They are all multi-millionaire companies.
Dayo graduated from the department of Soil Science and had his master's degree from Business Administration all from Obafemi Awolowo University Ile Ife.
OPPORTUNITY PLUS
OUR PRACTICAL BUSINESS FOR YOUTHS IN NIGERIA
1. Leverage Caller Club (LCC)
This is a communication and wealth package designed by OAK and TOWER LTD and etisalat. This package will help youths to start a business that can raise money for other businesses they will be doing. It also help to develop their entrepreneurial skills.
To start this package, the business owner needs N11,500 and ability to invite 5 people. The package comes with an etisalatsim that you can use to call some people free of charge and also make up to 1,560,000 naira.
The business is all about selling a subscription and etisalatsim.
More info at www.oakand towerltd.com
2. National Health Insurance Scheme (NHIS)
This is a franchise opportunity for youths to make money. This includes selling this package to organisations and individuals. You make money base on commission. You start with zero naira
3.TREVO Corporate
This is an health and wealth package that is close to 2 years in Nigeria. It is about beign a distributor of a liquid organig food called TREVO. The trevo contains vegetables, herbs and fruits. This liquid food can cure close to twenty aliment. The trevo contain 174 elements. More information at www.Trevo corporate.com.we need 34,000 naira to start.
4. CANS for cash
This package is designed by depth consult. do you know that the value paid for can drinks is not for content alone but also for the containers. A ton of empty crushed CANs is 40,000 naira.
You start with zero naira.
5. kavidoInduction Cooker
This is a package that is designed for youth to have a dristibutorship of a cooker that have a lot of potntials. Kavido Induction cooker with a stainless steel and glass led pot can contain 4-5 cups of rice. It boils to 100'c within 5mins.
To start is 15,000 naira.
For more information visit: www. Kavwin.com
Our Publication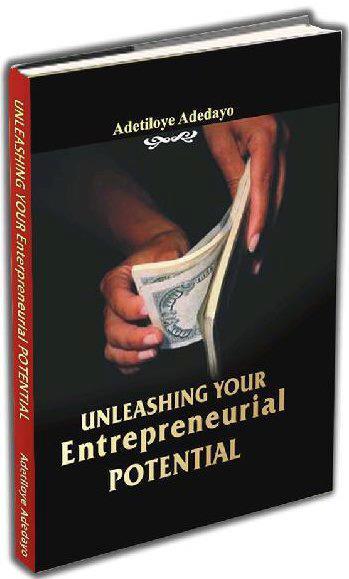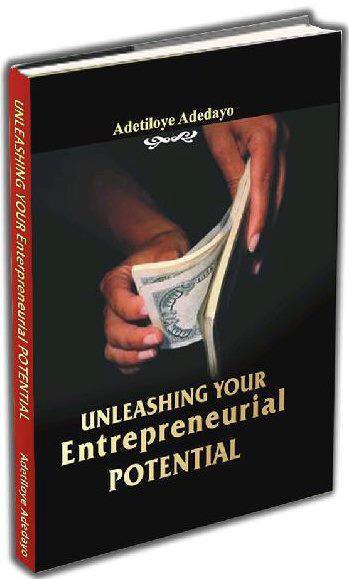 Unleashing Your Entrepreneurial Potential by DayoAdetiloye.
This is a book that helps students to combine academics with business and excel in both in higher institution.
The vision is to reach out to 70% of African students either they buy it or somebody buys it for them. The cost is 500 naira. www.dayoadetiloye.com
How do we apply this opportunities to your seminar?
We are so flexible to analyze your target audience and see the ones that will be applicable.
We don't just motivate, we empower people with practical skills.
We also give information about opportunities available in Nigeria to access funds to start businesses e.g bank of industry and YOUWIN- youth with innovation in Nigeria. In which youth can access grant to the tune of 10 millionaire.
How do you pay for our service?
We are a social enterprise that is designed to help the youth to jump start their business. You pay us honorarium
Our interest is to present these opportunities to more people in Nigeria.
Our Testimonials
DoyinAdegbami (ILE IFE)-
I won 10 millionaire in the YOUWIN business plan competition to start a bookshop and educational resource centre in Ile ife, Osun state. I was able to achieve this as a result of training and immerse contribution of 100/5 Academy. 07066356290.
Dina Olalekan (ILE IFE)-
Attending 100/5 academy seminars has help me to start my Agricultural food produce stores. We supply the Ile Ife community with Plantain and Banana. 08070968989.
God is Able College (IBADAN)-
We recommend Unleashing Your Entrepreneurial Potential BOOTCAMP FOR SECONDARY to all schools looking for leverage. The seminar have created a great vision for our students to develop their entrepreneurial skills and become a job creator in the future.
Tolu Famudehin-
I have benefited from the packages introduced by 100/5 Academy especially the Leverage Caller Club. I started with 11,500 naira and within two weeks, I made over 120,000 naira by just using the free call to members and inviting other people to join the package. 08067971190
Our Contacts
Ado Ekiti
Ekiti State, Isaiah  08069256341
Ile Ife
Osun State, Dayo 08060779290

Akure
Ondo State
Patrick
08174584556
Abeokuta
Ogun State
Shola
07062223158
Ibadan
Oyo State
Paul
08060714372
Lagos
Lagos State
Andrew
08055857241