A Beginners Guide to Cooking with Ofada Rice
Ofada rice is a long-grain rice variety that is indigenous to Nigeria and is often used in West African cooking. It is renowned for its nutty flavor and slightly sticky texture when cooked.
Ofada rice is a versatile ingredient that may be used in a variety of recipes, including fried rice, rice bowls, and jollof rice. It can also be prepared as a simple side dish and spiced up with butter, herbs, or other tasty spices.
It's easy and fun to cook with ofada rice as a beginner. Here's a guide to getting you started if you've never cooked with ofada rice.
1.  Measure the rice and water
When preparing ofada rice, it's critical to measure the water and rice correctly to guarantee a consistent pleasant output. Generally speaking, you should use a 2:1 ratio of water to rice, which means that you need 2 cups of water for every cup of ofada rice. This will result in a pot of fluffy, tender rice, with each grain being thoroughly cooked and separated from the others.
It is also important to keep in mind that the amount of water required may differ significantly based on the type of pot or pan you are using. You might need to add a little extra water to the pot if the rice is still too hard or undercooked when the specified cooking time has passed.
On the other hand, you might need to use a bit less water the following time if the rice is overly soft or mushy. With a little effort, you'll be able to cook ofada rice to perfection every time, even though it could take a few tries to get the ideal water-to-rice ratio.
2.  Rinse the rice
A crucial step in cooking with ofada rice is rinsing the rice before you start. Rinsing the rice helps to wash away any dirt or impurities that may be on the grains and also helps to wash away extra starch from the rice's surface. As a result, the rice may cook more easily and without clumping or getting sticky.
Simply put the rice in a strainer with a fine mesh and run it under cold water until the water is clear to rinse it. It shouldn't take more than a few minutes to complete this. After rinsing, the rice is prepared to be cooked.
3.  Soak the rice
Ofada rice should be soaked because it takes longer to cook than other varieties of rice.
Place the washed rice in a big dish and pour cold water over it. Allow the rice to soak for 20 to 30 minutes, or until some of the water has been absorbed.
After soaking, drain any extra water from the rice in a fine-mesh sieve. It is not always required to soak the rice before cooking, however, doing so can help to shorten the cooking process and enhance the rice's texture. You can still cook rice by following the directions for rinsing and measuring the rice and water, and then cooking it as directed if you are pressed for time or do not have the chance to soak the rice.
4.  Get the water to boil
Ofada rice should be cooked in water that has been brought to a boil before adding the rice.
To do this, merely add the measured water to a sizable pot and heat it over high. Depending on the size of your pot and the temperature of your stove, allow the water to come to a boil. This process will take a few minutes. The rice can be added once the water has come to a rolling boil.
5.  Add the rice
The rinsed ofada rice should be added to the pot once the water has reached a rolling boil.
Pour the rinsed rice into the boiling water and give it a gentle stir to keep it from sticking to the bottom of the pan. When adding the rice, it's important to stir it in gently because vigorous stirring can ruin the grains and change how the cooked rice will ultimately turn out.
Ofada rice will expand while cooking and requires a lot of space to do so, so it is crucial to use a large saucepan. The quality of the finished meal may suffer if you use a smaller pot since the rice may boil over or the pot may become overloaded.
6.  Reduce the heat
When cooking ofada rice, it's vital to reduce the heat to low and cover the pot with a lid after adding the rice to the boiling water. The rice will be cooked more efficiently and uniformly as a result of the steam being trapped inside the pot.
Reduce the heat and cover the pot to boil the rice for 20 to 25 minutes, or until the water has been absorbed and the rice is soft.
While the rice is cooking, it's vital to avoid opening the pot's cover too frequently, as doing so can let steam out and impact how the rice cooks. Try to resist the need to look instead and let the rice cook until it is finished without interruption.
7.  Fluff the rice
Rice that has been fluffed has a better overall texture and appearance because it helps to separate the grains and keep them from sticking together.
Simply turn off the heat, remove the pot, and gently mix the rice with a fork to fluff it up.
8.  Serve the rice
After being fluffed, the rice is prepared to be served as a side dish or used in a variety of recipes, including jollof rice, fried rice, or as the base for a rice bowl.
Ofada rice can be served as a side dish by fluffing the cooked rice with a fork to separate the grains and keep them from sticking together. After that, place the rice in a bowl or serving dish and serve it with your main course. Ofada rice can be consumed plain or seasoned with butter, herbs, spices, or other tasty ingredients to enhance its flavor.
To use ofada rice in recipes like jollof rice or fried rice, simply follow the recipe's directions for preparation, being careful to rinse the rice, measure the water and rice accurately, and cook the rice until it is ready. Once the rice is cooked, it can be combined with other ingredients like vegetables, meats, and spices to make a delicious and satisfying dish.
Ofada rice is also often used in rice bowls. To make a rice bowl, just cook the rice as directed in the recipe, then top it with a selection of options like grilled meats, vegetables, beans, or other yummy toppings.
Some tips for cooking with ofada rice
Ofada rice tends to be stickier and more glutinous than other types of rice, so it is best to avoid stirring it too much while it is cooking.

If you want to add some extra flavor to your ofada rice, consider adding some aromatic spices like cumin, coriander, or turmeric to the water before cooking.
Conclusion
I sincerely hope that this guide will help you start to prepare meals with ofada rice! Don't be afraid to ask for more information or clarification if you need any.
Have fun cooking!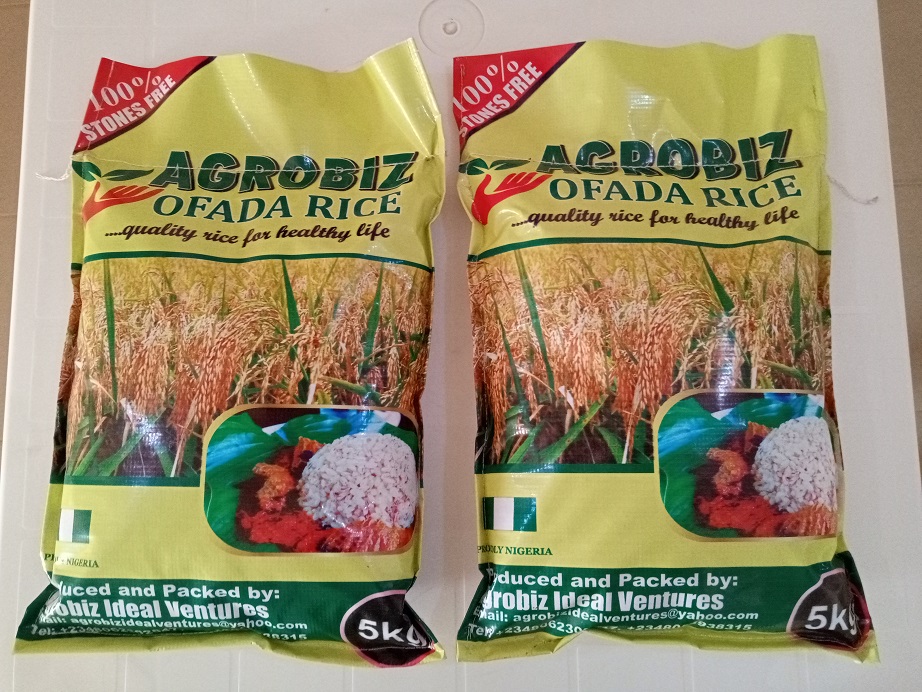 To buy your Original destoned Ofada Rice and delivered to you any where is Nigeria Call or whatsapp 0806077920
Price:  N6000 for 5kg– you can only request for minimum of 10packs and above.
             N55,000 for 50kg
Office for pick up: No 17, community Avenue, ilupeju Magboro, beside Tallmania Hotel, Lagos-Ibadan express way.
Call/WhatsApp 08060779290
Read Also