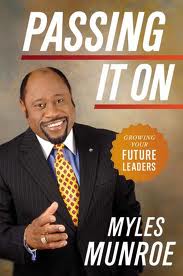 Growing Your Future Leaders
Myles munroe is the national bestselling author of in charge. He is founder and chairman of international thir world leavers association (ITWLA), an organization devoted to training and developing leaders in over 80 developing nations
Dr. Munroe is a multi-gifted international motivational speaker, bestselling author, and business consultant, addressing critical issues affecting every aspect of human. Social. And spiritual development, he is the founder, president and senior pastor of Bahasmas faith ministries international.
The future of the third world nations rests in the quality of leaders we identify, cultivate, train, mentor, and empower to serve their generation with humility and an awareness of their dispensability.
True leaders are never married to a position.
Copyright C 2011 by Myles Munroe
ISBN: 978-0-446-55873-0

Pages-243
Contents
Part 1 : The principles- Success is to per perpetuate purpose for posterity.
–         The greatest leadership obligation is preparing your replacement
Part 2 : The pitfalls- Prepare for when you are not around
–         Provide a model
–         Refuse to be a seedless grape
Part 3 : The purpose- Make your vision endure
–         Hand off the baton: it's a relay race.
Part 4 : The plan- What are you looking for in your successor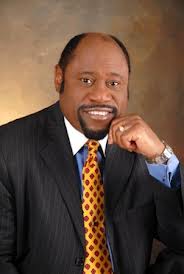 –         The wrong choice
–         Establishing the qualification
Part 5 : The practice- Making succession work
–         Leadership is "caught"
–         Mentorship is by Agreement
–         Mentor chooses/the mentee pursues
–         Take the credit and rejoice in your mentee's success
–         "Now You Go" : Transfer the vision
Afterwords : A word to the third world
The greatest act of leadership is mentoring. No matter how much you may learn, achieve, accumulate. Or accomplish. If it all dies with you, then you are a generational failure.
We need leaders who are more dedicated to history than they are to money. We need leaders more interested in investing in people than in pursuing private ambition.
The highest manifestation of true leadership is to identify one's replacement and to begin mentoring him or her.
True leaders must focus on investing in people more than buildings.
The most important responsibility of leadership is to prepare for succession. The most valuable goal of leadership is not to succeed in the present, but to secure the future.
It is not what leaders achieve that counts. It is what they transfer. Building people to protect and preserve our institutions is more important than building institutions.
Success is not what happens while you are alive. Success is what happens after you leave.
Price # 1000
Visit 100/5 Academy
To buy call: 08060779290, 08174584556