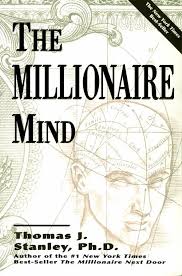 Thomas J. Stanley Ph.D. is the author of the # 1 New York Times best-Seller The Millionaire Next Door
ISBN: 978-0-7407-1858-8
Pages- 406
C 2001, Andrews McMeel Publishing
They live in lovely homes located in fine neighbourhoods. Balance is their approach to life. They are financially independent, yet they enjoy life- they are not "all work, no play" type of people. Most became millionaire in one generation.
How did they accomplish this? How did they balance their need to become wealthy and economically productive with their need to enjoy life? They have the millionaire mind. Their assets greatly exceed their credit liabilities.
The foundation stones of financial success are:
Integrity- being honest with all people
Discipline – applying self control
Social skills- getting along with people
A supportive spouse
Hard work- more than most people
How did we become millionaires in one generation? Most of us saw an economic opportunity that others just ignored, and we had a willingness to take financial risk given the promise of good return. We have ability to sell our ideas to our employees and suppliers, and our products to carefully targeted audiences.
We provide a product or service that has strong demand but few suppliers to fulfill that demand. We do not follow the crowd. That applies both to what we sell and how we invest.
Contents
An introduction to the millionaire mind
Success factors
School days
The relationship between courage and wealth
Vocation vocation vocation
Choice of spouse
The economically productive household
The home
The lifestyles of millionaires: Real vs Imagined
 A final note about the millionaire mind
Price #1000
Visit 100/5 Academy
To buy call: 08060779290, 08174584556
Think differently from the crowd