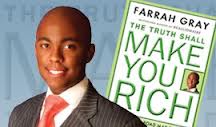 The new road to radical prosperity
Previously published as Get Real, Get Rich
Farrah Gray is the bestselling Author of Reallionaire.
Raised in the impoverished south side of Chicago, Farrah Gray defined the odds and became a millionaire by age fourteen. He was the youngest person to have an office on Wall Street; and the youngest to receive an honourary doctorate.
In The Truth Shall Make You Rich, Gray shares the secret to His Success: an emphatic rejection of the seven fallacies most people believe about money and success: the Born-lucky lie, the Celebrity lie, the Money Lie, the Debt lie, the Google and Gate lie, the wall street lie, and the work-hard lie.
Things  may come to those who wait, but only the things left by those who hustle. Hustle is focusing your dreams into fruition.
Copyright c Farrah Gray, 2008
ISBN: 978-0-452-29017-4
Publisher- A plume Book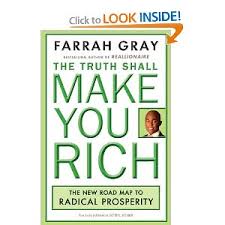 Contents
The Born-lucky lie: I have to be with connections or a special talent to be rich.
The truth: Luck is showing up. You can't win if you don't play.
The Work Hard Lie: I have to work hard and be willing to make sacrifices to be rich.
The truth: workless, make more. Find your area of excellence.
The celebrity lie: I have to hit it big in the entertainment or sports world to be rich.
The truth: A celebrity is someone who is celebrated- Some one who shows up to do something well.
The money lie: I have money to make money and be rich
The truth: The path to millions starts with one dollar.
The Debt Lie: I have to have zero debt to be rich
The truth: You must have debt to get rich. You must use debt to get rich.
The Google and Gate lie: I have to be super-smart and invent something the world relies on to be rich.
The truth: Intelligence, wit, and inventiveness will only get you so far. Big things are born from small niches.
The wall street lie: I have to know a lot about the stock market or work on the street to be rich.
The truth: Return on investments don't come directly from wall street. They arise from within you based on what you know and love.
Price- #700
Visit 100/5 Academy
To buy call: 08060779290, 08174584556