CAKE BUSINESS PLAN IN NIGERIA
CAKE Business Plan in Nigeria
This sample CAKES Business Plan in Nigeria can be used for Grant Applications, Bank Loans, Proposal writing, Business Concept Note, Competitions etc. CAKES Business Plan is a lucrative business that needs a lot of strategic Planning to start and a business coach like Dayo Adetiloye to help you start the Implementation.
Business Description of CAKE Business Plan in Nigeria
Business: CAKES
Industry: CATERING (CAKE Business plan in Nigeria)
PATILAD CAKE is passionate about the art of baking, decorating and designing cakes that are a creative expression of your dreams. The industry is located in Ota, Ogun state with distributors scattered through major towns and cities in Nigeria.
We provide fluffy cakes with great taste. Our cakes are not only beautiful to behold, they also offer bite after bite of rich and delicious scrumptiousness. We want our end-user consumer always asking for more. For us, it is a pleasure to put a smile on your face and ensure you get prompt service and good value for money.
Some of our delicious flavours include lemon, chocolate, strawberry, butterscotch, banana, almond and coconut. You can also choose to have your cakes made in various shapes, sizes, flavours, characters and colours. We cater for birthdays, weddings, engagements, occupationals, christenings anniversaries, basically any special event that you may be celebrating. Other products include desserts and ice cream, cupcakes, puddings and a range of other treats for events as well as personal consumption. We bake basic round cake, to 3D sculpted children's birthday cakes and sparkling wedding cakes.
Each design is customized and tailored to your individ
ual style and sweet tooth. Quality and detail is revealed in each layer of rich, moist cake, luscious fillings and icings, made from the freshest ingredients
. We create hilarious out-of-this-world cakes that would bring a smile to the sternest of faces or breath-taking designs that you thought existed in fairy tales.
At PATILAD CAKES, we are committed to seeing your ideas blossom into outstanding cakes, and will work with your budget without compromising on the great quality we are known for. We pride ourselves in being a unique one stop shop. When you have a "cake emergency", we are likely able to help you by providing a cake at short notice. Excellent customer service and satisfaction are at the heart of our business, and are reflected in all what we do. What makes us stand out amongst others is our creativity and commitment to quality. We recommend booking a complimentary consultation to come in and talk about your cake with us.
The benefits of our products and services are
– The provision of high quality, nutritional, and delicious cakes.
– Availabilities of several varieties meeting the need of a wide range of class of people.
– Fluffy, highly nutritious and gorgeous cakes that gives perfect ambience to your occasions.
– Excellent customer care services
– Fair and lowest possible prices
Objective for CAKES Business Plan in Nigeria
• To become the premier cake producer in Nigeria.
• To open three(3) new distribution outlets every 36 months.
• To offer high-quality nutritional, sumptuous and fluffy cakes at reasonable prices.
• To achieve net profit in year one, increasing in year two, by containing costs and meeting sales goals.
• To provide quality sales service and products at fair and best possible prices.
Goal for the CAKES Business Plan in Nigeria
To be the leading cake producing industry in Nigeria and the West African sub region in ten (10) years through the provision of excellent sales services and products.
Vision for the CAKES Business Plan in Nigeria
To become the leading brand name for accessing varieties of freshly baked cakes through its excellent low-cost product offering and efficient distribution network.
Mission for the CAKE Business Plan in Nigeria
PATILADWONDER's mission is to become the premier cake producing industry in the West African sub region. This will be accomplished by offering an unprecedented distribution network coupled with great and varied products and reasonable prices.
Management Team of the CAKE Business Plan in Nigeria
OYEBADE Adelaja Festus – is highly knowledgeable in the CAKES business. He has over 7 years' experience in the industry. Moreover He is a graduate of Food Science and Technology from the prestigious Obafemi Awolowo University, Ile-Ife.
Mr Dayo Adetiloye – (B. Agric., MBA, and PMP): He has over 15 years' experience in business management, business start-up dynamics, financial management of business and overall business growth and development. He is an alumnus of Enterprise Development Centre (EDC) of the Lagos Business School (LBS), Pan African University (PAU). He is our business development strategist and a strategic partner.
We brought to the business:
– Educational skill and practical experience in CAKES business.
– Capacity to consistently provide high quality, fluffy, and delicious cakes all year round.
– Quality processed product and good understanding of the market trend.
– Our staff brings operational, marketing and promotional skills to the business.
With over 7 years' experience in CAKES business and numerous exposure to both the scientific and practical aspect of CAKES, I've being able to master the technical requirements, financial management, staff recruitment and organization skills among other things necessary to give the industry good commendation from our clients.
My managerial skill has also helped in putting together a workforce for over 5 years, which will also help me to coordinate the team work in most aspect of the company.
I am the CEO of the company overseeing the day to day activities of the business.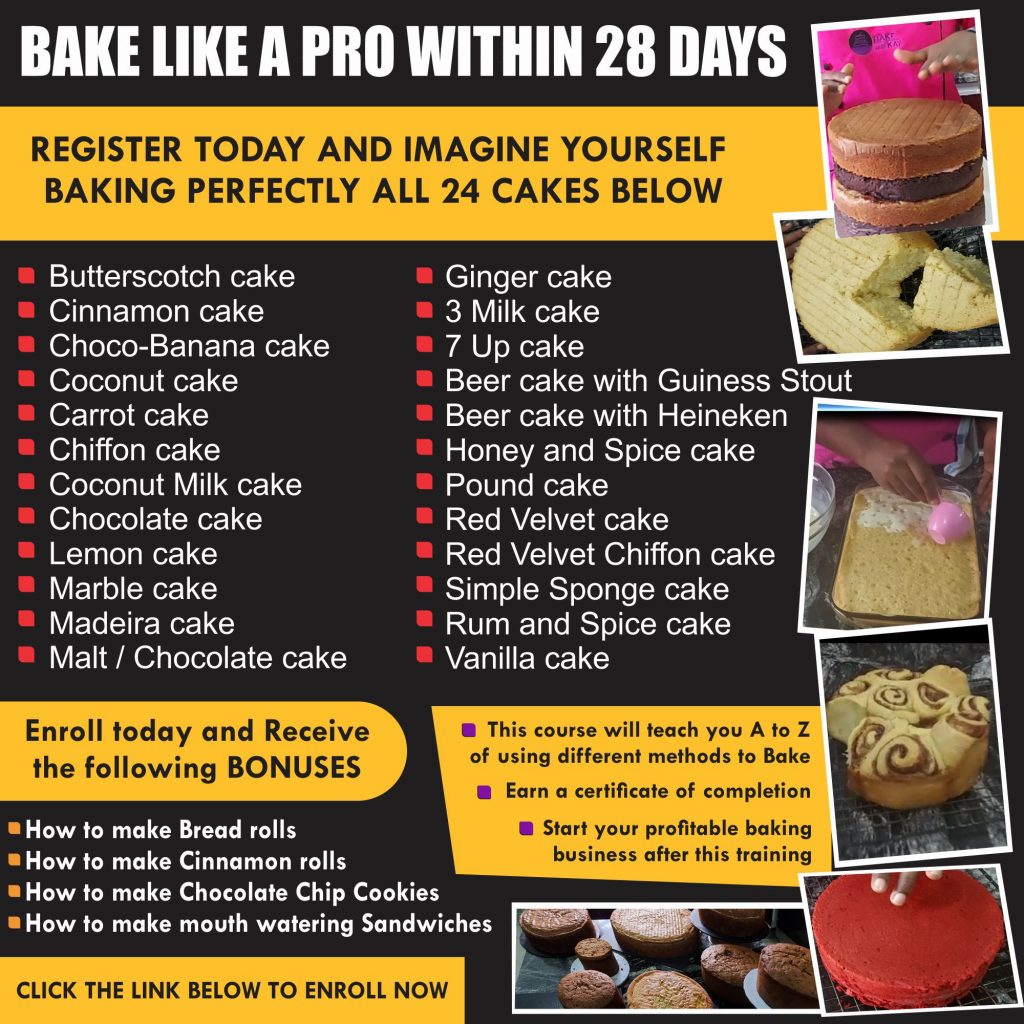 Materials and Machine for CAKE Business Plan in Nigeria
Industrial oven, commercial stand mixer, rolling pins, turn table, stencils, refrigerator, spatula, cutters, moulds, cake dummies, piping bags, smoothers, cake pillars and dowels, crimpers, embossers, icing nozzles, palette knives, modelling tools, etc.
Competitor Analysis for CAKES Business Plan in Nigeria
People buy from us because of the following reasons:
– High quality, fluffy, nutritional, and delicious cakes.
– All year round available of our customers' choicest cakes.
– Efficient and highly reliable distribution network.
– Excellent customer care services
– Fair and best possible prices and discount offers
Our three major competitive advantages are:
1. High quality, gorgeous, nutritional, and sumptuous cakes.
2. Different varieties, all year round availability of our customers' choicest cakes , and
3. Fair and best possible prices and discount offers
For the remaining part of this business Plan, including the detailed financial analysis, call any of our business plan consultants on 08105636015, 08076359735 or 08113205312 or send me an email at dayohub@gmail.com.
We help institutions and organizations to write concepts and implement Business Plan and also train on business Plan writing in Nigeria.
We can help you write a detailed, strong and winning business Plan for any use.
Call any of our business plan consultants on: 08105636015, 08076359735 and 08113205312.
or Send me an email at: dayohub@gmail.com.
Click to buy CAKE BUSINESS PLAN and template now & download it immediately.

Click here to access my free E-book and newsletter on Grants opportunities in Nigeria and other business opportunities and information to help you discover, develop and fulfil your business potential https://app.getresponse.com/site2/consultdayo?u=SuQl&webforms_id=4057602