Click here for the 2020 Free ebook to apply for the grant  
Read my Letter to You!
3 Days To Close TEF $5000 Grant Application! 2 Major Ways We Can Still Work Together!!
Hello Friend,
My Dear Millionaire Friend,
I believe you have submitted your Tony Elumelu Foundation $5000 Grant application.
We have just 3days to the deadline of the application.             
So far, the Foundation has received 125,721 applications from across Africa.
The application portal closes at 12am, WAT on the 1st, March, 2018.
What Chance do you Have if you Submitted Late?
According to a video I watched on YouTube where How they mark it was unveiled to the Founder, himself, Tony Elumelu
This is the Procedure:
All applications will be marked after screening of people who submitted more than one application or people who have won before.
They pick a cut off mark and select 1st 1500 for the second level of screening.
If you write it well and you submitted on the last day and you scored more than the cut off, you will be selected.
If you want to write it yourself and you don't have money for the 2 options above, we have you covered.
Click the link below to download our Free E-Book where we have Explained Each Questions and Samples of How to Answer the questions.
https://dayoadetiloye.com/free-download-e-book-write-2018-tony-elumelu-foundation-5000-grant/
NB: We will make adjustment on this E-book and sell it in the next edition because it's like most people did not use it or appreciate it.
Friend, If you want to watch the video I watched on how they mark this TEF applications,
Click the link below to judge yourself if you will make it to the top 1000 in Africa or not.
https://www.youtube.com/watch?v=US5yJvMZtGk
PS: Friend, Remember that The Foundation has special slots for North East and Niger Delta geopolitical zone in Nigeria. I you are in that region, I will advise that you don't do it alone. Do for your family too. You can write it and put their name on it especially females.
If you think you can pay for our services of Expert Review or Professional Write up, call me or WhatsApp me on +2348060779290. We have the workforce that can make this happen for you.
For other African countries: Each country has slots. So, please apply Now before the deadline!
In 2018,
"Work hard like everything depends on you,
Pray hard like everything depends on God.''
Friend, I will like to hear from you!
Till I hear from you Friend.
Keep succeeding!
For: Dayo Adetiloye Business Hub
Dayo Adetiloye (B.Agric, MBA)-
AUTHOR – CONSULTANT – SPEAKER – ENTREPRENEUR – BUSINESS ANGEL
Helping men to discover, develop and fulfil their business potential.
…Raising 100 Young Millionaire Entrepreneurs in Five Years… since July 2012
08105636015, 08076359735
FREE DOWNLOAD: E-book to Write the 2018 Tony Elumelu Foundation $5000 Grant is Here
Dear Entrepreneur,
Tony Elumelu Foundation is now accepting applications for the 4th cycle of the TEF Entrepreneurship Programme. Outstanding African entrepreneurs who have start-ups or business ideas with the potential to grow are encouraged to apply.
Through this business development programme, we provide training, mentoring, funding and network access to catalyze growth in Africa's most under valued resource- its entrepreneurs.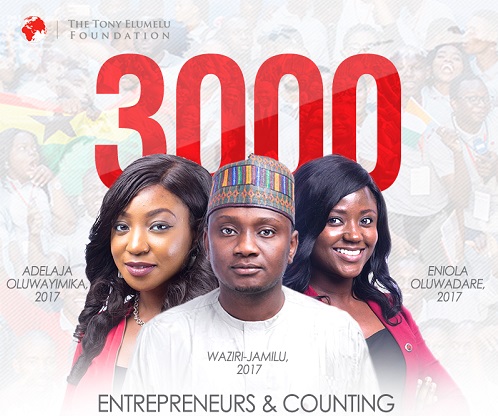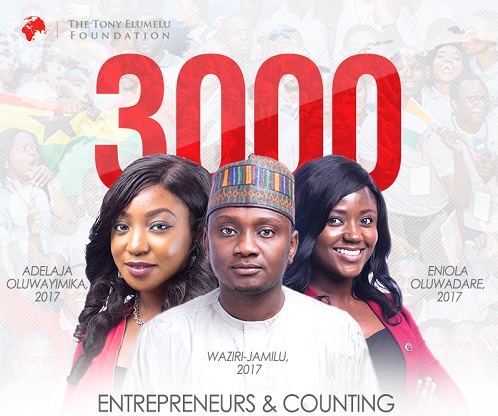 The Entrepreneurs who pass through the Programme become part of a growing network of business leaders. The alumni network is comprised of all Tony Elumelu Entrepreneurs and beneficiaries of our past Programmes.  The online and offline network promotes sector-based and geography-based communities and collaboration across Africa.
There is growing interest in TEF as the partner of choice on African Entrepreneurship. Like-minded organisations can partner with us to gain access to the largest entrepreneurship ecosystem on the Continent and amplify their transformative impact.
Strategic partners can add value to our alumni, drive research, enhance the largest annual gathering of African Entrepreneurs or fund some of the brightest ideas to come out of Africa.
Tony Elumelu Foundation is focused on promoting the positive role of entrepreneurship in driving Africa's social and economic development. In doing so, we hope to accelerate the spread of economic prosperity and social progress throughout Africa, strengthening the African entrepreneurial ecosystem.
Introduction
Top of Form
Welcome to the 2018 edition of the Tony Elumelu Entrepreneurship Programme, the flagship programme of The Tony Elumelu Foundation.
Please note you can save your information at any point in the process and return to complete your saved application before the closing date : to complete your application
You can make changes to your application entries before you submit. After submission, you will not be able to make any modifications to your submission. All applications will be reviewed and selected applicants for 2018 will be notified accordingly.
From Dayo Adetiloye Business Hub,
Here is our gift for you to write a successful application for the 2018 edition
Click Here to Download the E-book