HOTEL BUSINESS PLAN IN NIGERIA
Hotel Business Plan in Nigeria
This sample Hotel Business Plan In Nigeria can be used for Grant Applications, Bank Loans, Proposal writing, Business Concept Note, Competitions etc. Hotel Business Plan is a lucrative business that needs a lot of strategic Planning to start and a business coach like Dayo Adetiloye to help you start the Implementation.
Business Description of Hotel Business Plan in Nigeria
Business: Hotel Business
Industry: Hospitality& Tourism
PATILADWONDER Hotels, is a state of the art comfort paradise, in the heart of Niger State.  We are equipped with the right facilities for lodging; we also feature an intercontinental restaurant, bar, seasoned staffs, security and spacious Parking space. We are creating a differentiated experience capitalizing on personal service, the traditional and modern intertwined architectural structure of our building and its unique location in one of the most attractive parts of central Niger State. We plan to be more than a great lodging centre, recreation and event centre. We plan to create an environment of pampered luxury that surpasses anyone in our industry in Niger State. Expanding our exposure via the Internet and social media to people that have not yet discovered this year-round paradise will allow us to maintain a higher than average occupancy rate and above average profits.
Patiladwonder Hotel target market strategy is based on becoming a destination choice for the people in the Niger State who are looking for a place to relax or recharge. The target markets that we are going to pursue are people or families looking for a vacation destination, honeymooners, family reunions, tourists and drop-in customers. Our setting and facility is a natural for people or families to visit, we also feature entertaining bands and comedians who are always a thrill to our guest, especially the weekenders. A modest projection for increased unit rental is 30% per year, we also feature a standard dry-cleaning and car wash service which also adds to our revenue channels.
Our restaurant has increased in sales weekly as we feature the only restaurant that gives a world-class intercontinental dish in the whole 30km area of the district. Our 30% projection is without any significant increase in advertising or exposure, but is based on the general average increase in tourism.
Our three major customer segments are locals, tourists, travellers, and drop-in customers.  We are available on all major hotel booking sites in Nigeria i.e Hotels.ng, jumiatravels.com, wakanow.com and the likes.
The benefits of our products and services are
Excellent and high quality 4star experience

Easy online access

Luxurious hotel facilities

Excellent Customer Care Services

Special discounts and averagely fair prices
My business meets a need and demand for:
A hotel befitting for tourist destination with intercontinental dishes

Quality care and hotel experience

Provision of highly trained staff experience

Great and possible prices.
With the experience I have gathered in the last 20 years in the tourist and hospitality industry, I have come to see the immense need of offering even more a standard hotel experience to the people of my state-Niger. Aside from the undeveloped state of our tourism, we also have a-not-so up to date practices in this industry. This and many reasons are what motivated me to start my own private practice.
In my working experience, I had not only become conversant with how to deal with clients I had learnt a great deal on how to motivate and ensure staffs are providing the best quality service. I had also learnt how to sustain long term relationship with my client in such a way to always ensure repeated sales.
My work history also afforded me valuable skills on how to maintain world class practices and quality, determine the number of bulk purchase to be made per stocking, etc. I have also discovered an unsatisfied market in my area.  I have a great passion for self-reliance and creating job opportunities.
Objective for the PatiladWonder Hotel Business Plan in Nigeria
Steadily increasing number of patronage in 12 months.

Maintaining a 90% occupancy rate each month.

Assembling an experience and effective staff.

To increase the number of clients by 10% each year.

Increase exposure and market using Internet, social media and direct advertising.

Through incentives and increased activities on the Internet, we hope to increase off-season occupancy by 30% the first year.
Goal for the PatiladWonder Hotel Business Plan in Nigeria
-To be the leading Hotel in any environ we are situated in Nigeria through the provision of excellent services and comfort.
Vision for the Clinic (Health Care Management) Business Plan in Nigeria
To be a household name in the Hotel business in Nigeria.
Mission for the Clinic (Health Care Management) Business Plan in Nigeria
To exceed the customers' expectations by providing high quality services products and exceptional customer care services in a loving and caring way.
To ensue all-round excellence in service rendition.
Management Team of the Clinic (Health Care Management) Business Plan in Nigeria
OLANIYI Adesanya Moses – Has over 20 years' experience in the Hospitality& Tourism industry. He is a certified business consultant and project management professional. He will be in-charge of day to day activities of the business.
Mr Dayo Adetiloye – (B. Agric., MBA, and PMP): He has over 15 years' experience in business management, business start-up dynamics, financial management of business and overall business growth and development. He is an alumnus of Enterprise Development Centre (EDC) of the Lagos Business School (LBS), Pan Atlantic University (PAU). He is our business development strategist and a strategic partner.
We brought to the business:
Experienced and astute Hotel business management services

Capacity to retain our guests to ensure repeat bookings and referrals

Our experience in the industry bring competence and credibility

My staff brings operational, marketing and promotional skills to the business
Management experience gained for the PatiladWonder Hotels Business Plan in Nigeria
With over 20 years' experience in this industry, I've being able to master the knowledge and technical requirements, financial management, staff recruitment and organization skills among other things necessary to give the business good commendation from our customers.
My managerial skills has also helped in putting together a workforce for over 5 years, which will  also help me to coordinate the  team work in most aspect of the company.
I am the CEO of the company overseeing the day to day activities of the business.
Materials and Equipment for PatiladWonder Hotel Business Plan in Nigeria
Hotel space, power source, hotel van, good water source, beddings, interior furniture, interior gadgets, kitchen equipment and utensils, laundry equipment, car wash equipment, Phones, Storage hardware (bins, utensil rack, shelves, glasses case), counter area equipment (counter top, sink, ice machine, etc.), serving area equipment ( glasses, flatware), Office equipment and furniture, furniture and gadgets (Computers, Printers, Telephone, TVs, Sound System, tables and chairs), booking software installation and website set-up.
Competitor Analysis for Patilad Wonder Hotel Business Plan in Nigeria
People patronise us because of the following reasons:
Provision of high quality hotels services

Excellent hotel facilities and uninterrupted power supply

Great incentives

Excellent customer care
Our two major competitive advantages are:
Good and accessible location in a serene and highly secured environment

Intercontinental dishes in a world class style
To buy the remaining part of this business plan, including the detailed financial analysis, call any of our business plan consultants on 08105636015, 08076359735, and 08113205312. You can send a WhatsApp message or email us at dayohub@gmail.com or info@dayoadetiloye.com.
We help institutions and organizations write concepts, implement Business plans, and train on business Plan writing in Nigeria.
We can help you write a detailed, bankable and comprehensive business plan for your business idea.
Call any of our business plan consultants on 08105636015, 08076359735 and 08113205312
Or send a WhatsApp message or email us either at dayohub@gmail.com or info@dayoadetiloye.com.
Click to buy Hotel Business Plan and Template Business Plan and template now & download it immediately.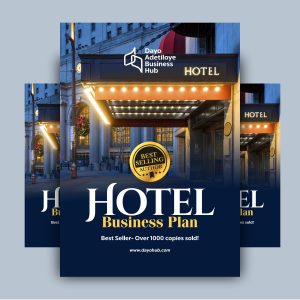 Click here to access my free E-book and newsletter on Grants opportunities in Nigeria and other business opportunities and information to help you discover, develop and fulfil your business potential