Opportunity to Win 3 million Naira Grant at 2014 Budding Entrepreneur Today (BET4) Programme for Nigerians by Diamond Bank  is another opportunity for Nigeria youths and all entrepreneurs all over the country in the following industries(Agro allied, Renewable Energy & Information Technology) to present their businesses and innovation and have the opportunity of being selected as one of the top 50 businesses that will be provided with extensive training, mentoring and advisory by the Enterprise Development Centre with the top 5 businesses winning 3 Million naira each
The first phase of the BET programme commenced in 2010 in which Diamond Bank empowered 5 entrepreneur with growth capital of N3 million each after they emerged top 5 from rigorous business training at the Enterprise Development Centre (EDC) of the Pan African University.
The programme focus on 3 Core areas
1)  Agro allied- Businesses in the agriculture sector
2)  Information Technology- Technology based businesses
3) Renewable Energy- Businesses focused on improving and providing renewable energy
The selection criteria for BET3 and application procedures can be found below:
SELECTION CRITERIA
Selection criteria will be as follows:
1.    Applicant must have a fully functional business (at least 3months in operations)
2.    Applicant MUST not have attended any entrepreneurial Management program at EDC.
3.    The business must have high growth potential.
HOW TO APPLY:
Interested applicants can apply on-line at Diamond Bank BET 4 application form.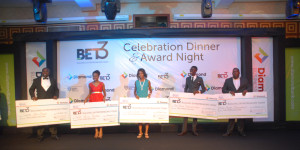 CAPACITY BUILDING PHASE:
EDC will be responsible for selecting the best 50 entrepreneurs that will partake in the 3 months Capacity Building Program at the Enterprise Development Centre of the Pan African University. These 50 participants will enjoy the following;
EDC networking meeting
Business advisory and counseling session
BUSINESS DEVELOPMENT PHASE:
From the 50 entrepreneurs, 15 will be selected as Top Breed Students and they will be further engaged in an Intensive Business Development Support Service for another period of 6 months. This set of 15 students shall be provided with the following services;
A quarterly consulting session to be provided by experts in various fields
Provide monthly monitoring contacts with mentors for participants
Provide a mentor for each participant who shall be a second year MBA student at the Lagos Business School.
Organize a platform for participant's review of their plans with the University.
NEXT LEVEL AWARD:
From the 15 Top students entrepreneurs, EDC will select 5 outstanding entrepreneurs that will be given the "Next Level Award". Diamond Bank will reward the 5 outstanding entrepreneurs with a sum of N3 million Naira each as their growth capital for their businesses.