Top 10 business grants for 2023
Unfortunately, one of the largest problems facing entrepreneurs today, particularly in Africa, is access to capital. Despite this obstacle, there are actually a ton of funding alternatives accessible for African entrepreneurs. All you need to do is be aware of these changes in great detail, be aware of how to take advantage of them, and be willing to do so.
Even if small businesses are having a difficult time, assistance is available from all levels of government, including the federal, state, and local ones. It could come from a grant, a loan, or an advantage in a challenging commercial environment. Here is a breakdown to assist you in sorting through the choices.
What is a grant?
Amounts of free money provided to a company or a project that is not expected to be repaid are simply called grants. An institution or the government may offer a grant to a company or an individual as financial support for a program or undertaking in the areas of business, education, home improvement, health care, etc. In other words, it might be called a gift, an allowance, or even an honorarium.
We will examine grants granted for commercial purposes concerning this post. Due to a lack of funding or insufficient resources, many business-minded individuals are pulling back from their original business plans or ideas. There are several ways to raise money to launch that fantastic business idea, but few people know these options. Most people turn to loans as their only choice, often without any assurance that they will be able to pay them back. You should choose a grant over a loan if you truly want your business to remain solid.
You may not be aware of how simple and quick it is to obtain grants in both Nigeria and Africa, but I'll be revealing to you the top 10 business grants in this post so you can position yourself and your company for them before 2023. Let's start now.
Top 10 business grants to look forward to in 2023
Tony Elumelu Foundation Entrepreneurship Programme
Tony Elumelu, the Chief Executive Officer (CEO) of Heirs Holding, launched this grant program in 2015. To date, the total number of enterprises that have benefited from this Grant is around 7,500, or $25,000,000 USD.
Requirements
You must be able to live and work in the country in Africa from where you are applying.

Your company must be based in the nation.

Either you are submitting with a brand-new business concept or you already run a company that hasn't been around for more than three years..
How to Apply
Create an account on the program's official website, https://tefconnect.com

Wait for feedback after completing the application form at the aforementioned URL.
Shell LiveWire
This program, a grant program, was introduced on March 27, 2003. It was originally founded to help Niger Delta teenagers between the ages of 18 and 30 realize their entrepreneurial ideas. Since its debut, Shell Livewire has provided grants to 3300 firms and taught 6500 young people.
Requirements
You must have a successful, established business idea.

Should fall between the ages of 18 and 30.

Must be an entrepreneur who has gone through training

Must be a native of one of the Niger Delta States
How to Apply
The application process is really straightforward; all candidates must simply complete a short form online at https://www.shell.com.ng/
UNICEF Innovation Fund 2021 for Startups
For-profit technological start-ups that have the potential to advance humanity are eligible for early-stage (seed) financing from the UNICEF Innovation Fund, which is looking to make equity-free investments of up to $100K. The UNICEF Innovation Fund is searching for startups that use machine learning (ML), data science (DS), or artificial intelligence (Al), are registered in a country where UNICEF works, and have a working, open-source prototype that has shown promising results. Sources for additional information can be found on this website:https://www.unicef.org/innovation/apply-Al-ML-digitalservices
Black Founders Fund Africa
A Google for Firms initiative that gives African startups with Black founders access to investment. We assist early-stage Black-founded firms on the continent through the Google for Startups Black Founders Fund in Africa. We seek to close the funding gap that Black company founders now face in Africa's rapidly expanding technology sector. This $3 million non-dilutive fund is distributed to 50 investable entrepreneurs in Africa. Additionally, the entrepreneurs receive support from seasoned Google professionals, Google Ad Grants, and Cloud credits.
Visit the following for additional details: https://campus.co/africa/black-founders-fund/
GroFin Fund
This empowerment program is dedicated to offering small and medium-sized enterprises in several important areas of the nation subsidies and business help. Since its inception in 2004, it has supported over 89,000 employees and given financial help to over 700 SMEs.
Requirements
Your company must be involved in one of the following industries: manufacturing, recycling, sanitation, water, energy, or waste management; and

It must be based in one of the nations listed above.

Grant applications must range from $100,000 to $1,500,000;

Your company must have a positive social impact.
How to Apply
Read Also: What is bitcoin investment, and how does it work?
USADF Grant
The U.S. African Development Foundation (USADF) is an autonomous American government organization dedicated to developing African nations by awarding grants to Nigerian and other African entrepreneurs to better their lives and means of subsistence.
Requirements
You must be older than 18 years.

You must have a registered business;

You must be an inhabitant of the nation from which you are applying;

Your firm must be situated in Africa.
How to Apply
To apply for a USADF grant, visit their website: https://www.usadf.gov
IBPLC KickStart
KickStart is a social investment program run by the IB PLC Foundation to lower unemployment by ensuring that aspiring innovators and business owners have the proper mentorship, business training, and development support. It ensures that the quality of life for southwest adolescents and the region's economic development are significantly enhanced. It holds an annual competition where the winner receives funding to help launch their firm.
Requirements
Must be between the ages of 18 and 35;

Must be a resident of the south-western region and operate a business there;

Must possess a valid ID;

Must possess an original, successful business idea;

Must be literate;

Must be able to run the business full-time.
How to Apply
To apply, visit their website: https://reg.smetoolkit.ng/program-apply/kickstart-nigeria-2021
African Women Innovation and Entrepreneurship
This program offers assistance and awards to creative female business owners throughout Africa. Its principal objective is to promote the expansion of women-run businesses to spur economic growth. It also acknowledges women who are performing exceptionally well in non-profit and private organizations to give their quota economically to the development of Africa.
Requirements
You must operate a legal business in one or more African nations.

A candidate must have demonstrated success as a female entrepreneur to be nominated.

Must be a female business owner.
How to Apply
Visit this website: https://awief.awardsplatform.com/ to apply
Innovation Price for Africa
This platform aims to use Africans' creative thinking to address the issues facing African nations. Participants who are eager to solve challenges are given grants.
Requirements
Must reside in or be a national of an African nation.

Must possess an analytical and creative mind.
How to Apply
Visit their website: http://africaninnovation.org/
African Business Heroes
The Jack Ma Foundation's major philanthropy initiative in Africa to assist entrepreneurs is called Africa's Business Heroes (ABH). Our goal is to encourage a movement of African entrepreneurship by showcasing and developing local talent who are making a positive difference in their communities and beyond. The program will honour 100 African businesspeople over a ten-year period and offer grants, educational opportunities, and other forms of support to the continent's whole entrepreneurial ecosystem. To solve the world's most pressing issues and create a more sustainable and inclusive economy for the future, ABH seeks to identify, support, and inspire the next generation of African entrepreneurs.
The project wants to be as inclusive as it can be. Entrepreneurs from all African nations, across all industries, and of all ages who own legally registered enterprises with headquarters in Africa and a three-year track record are welcome to apply in both English and French. Ten finalists will be chosen annually to participate in the ABH grand finale pitch competition and a TV show that will be televised online and throughout the continent. A grant fund totalling US $1.5 million is up for grabs among the finalists.
 For more information, please visit https://africabusinessheroes.org/en/the-prize/application-guidelines
You know I told you last here that I will be mentoring some people to win grant this year.
However, the first criteria is for you to buy this N30,000 Grant winning course which will be our guide as I mentor you.
Click the link below to register for the course now.
https://app.expertnaire.com/product/6752754464/7509385088
Are you looking to secure funding for your organization or project? Look no further than our comprehensive Grant Writing course! Our course is designed to teach you the skills and strategies necessary to write winning grant proposals.
Our curriculum includes lessons on researching funding opportunities, crafting compelling narratives, and building relationships with funders. Our experienced instructors have a track record of success in securing funding and will provide valuable insights and feedback on your own grant proposals.
In addition to in-depth instruction, the course also includes hands-on exercises and real-world examples to ensure that you are fully prepared to write effective grant proposals. Whether you are a nonprofit professional, a researcher, or an entrepreneur, our course will provide you with the tools you need to secure funding for your important work.
Enroll now and take the first step towards securing funding for your organization or project!
Register Here!
Hope you enjoy this article?
Share your thoughts in the comment session.
Contact us today for your business consultancy and business advisory services. We can help you fine-tune your idea, structure your business, market your business, train your staff, consult on your retirement plan, coach you for financial success. We also write a business plan and help with fundraising strategies and Grant applications. We can help you start, grow, and expand your business.
We help institutions and organizations write concepts, implement Business plans, and train on business Plan writing in Nigeria.
We can help you write a detailed, bankable and comprehensive business plan for your business idea.
Call any of our business plan consultants on 08105636015, 08076359735, and 08113205312.
Or send a WhatsApp message or email us either at dayohub@gmail.com or info@dayoadetiloye.com.
Recommended  Opportunity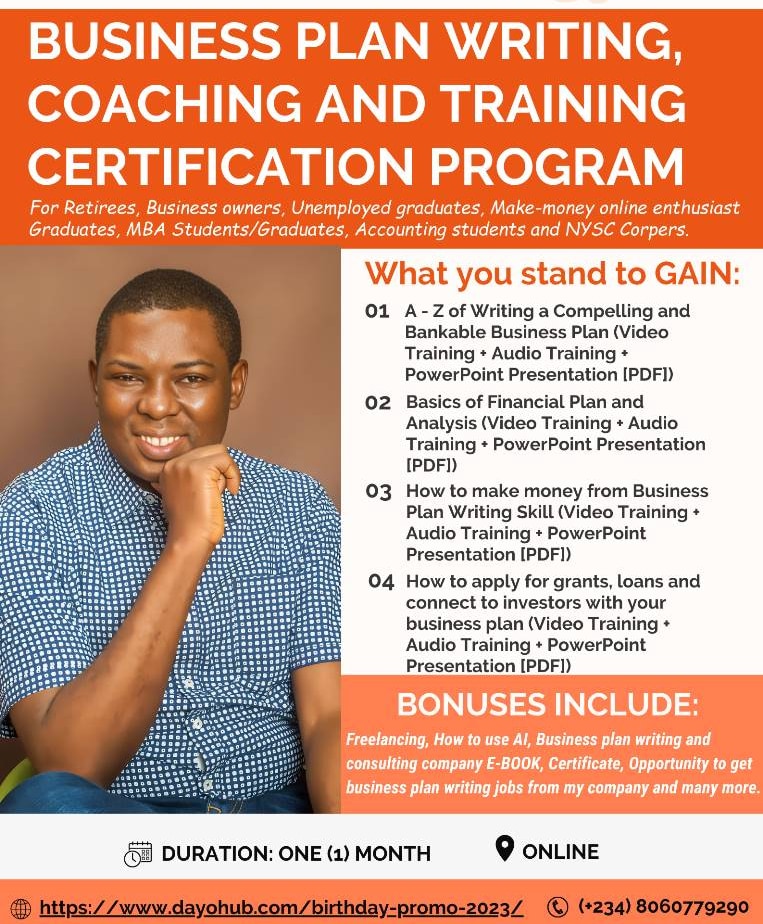 Read more Here and apply for my Business Plan writing, coaching and certification Training programme