The environmental impact of Ofada rice production
Ofada rice is a type of rice that is farmed in Nigeria, mainly in the states of Ogun and Lagos. It is known for having a unique flavor and aroma that comes from the rice variety used and how it is prepared.
The first step in the production of Ofada rice is land preparation, which requires clearing and ploughing the field and preparing the soil for planting. The seeds are subsequently planted in the ground, either by hand or with a seed drill. The fields are flooded to give the rice plants the essential moisture for growth after the seeds have germinated.
To achieve optimum development and productivity, rice plants need regular watering, weeding, and fertilizing. When the rice plants are fully grown, they are either harvested manually or mechanically. After the rice has been harvested, the grains are separated from the straw and threshed, after which they are cleaned and sorted according to quality.
After the rice has been collected and prepared, it is packaged and either exported or sold in local markets. It takes a lot of work and resources to produce Ofada rice, including land, water, and inputs like seeds, fertilizer, and pesticides.
Ofada rice production can have an impact on the environment, just like any other agricultural activity. The type of farming techniques employed, the quality of the soil, and the quantity of water used are only a few of the factors that impact how producing Ofada rice affects the environment.
The following are some possible environmental impacts of the production of ofada rice
1.  Land use
Large areas of land are needed for rice cultivation, and the increase in Ofada rice production could result in the conversion of natural habitats into agricultural land.
The loss of wildlife habitat and the disruption of ecological processes can result from the conversion of natural habitats into agricultural land. This may reduce the number and variety of species that can thrive in a particular region, which can also contribute to the decline in biodiversity.
Adopting sustainable land use techniques that limit the destruction of natural habitats and enhance the utilization of already available agricultural land is crucial to reduce these adverse effects.
Planning for the increase of Ofada rice production or any other agricultural activity requires careful consideration of the potential effects of land use decisions on biodiversity and the environment.
2.  Water usage
Indeed, rice is a crop that uses a lot of water and needs a lot of water to grow. Rice production requires a certain amount of water, which varies depending on the type of rice being grown, the climate, the type of soil, and the irrigation technique.
As Ofada rice is often planted in low-lying, flood-prone areas, its production requires a lot of water. This implies that to provide the plants with the moisture they require during the growth season, the rice fields must be saturated with water.
This may result in a lack of water in the area, especially during dry seasons. The amount of water necessary for rice production can be reduced in several ways. The use of more effective irrigation methods, including drip irrigation or sprinkler systems, can help reduce the quantity of water lost through evaporation and runoff. Using rice types that can resist drought conditions and use less water for growth is another solution.
Farmers can also employ water-saving measures like mulching, which can help retain soil moisture and reduce the demand for irrigation. Other techniques include growing cover crops, which can assist in retaining moisture in the soil, and crop rotation, which can help to improve soil health and decrease the need for irrigation.
Although rice farming might be water-intensive, it is crucial to remember that millions of people throughout the world depend on it as a source of food and income. To ensure that we can continue to cultivate this significant crop while also safeguarding the environment, we must figure out how to sustainably manage water resources in the production of rice.
3.  Greenhouse gas emissions
Methane, a potent greenhouse gas, is often released as a result of the decomposition of rice paddies, which makes rice production a potential source of this gas.
Through a process known as anaerobic fermentation, which takes place when microorganisms decompose organic matter in the absence of oxygen, rice paddies release methane.
Despite its shorter duration in the atmosphere compared to carbon dioxide (CO2), methane has a considerably higher potential to contribute to global warming.
Rice farmers have a variety of options for minimizing methane emissions from their rice fields. The use of alternative cropping systems, which do not require the use of flooded paddies, such as dryland or terraced rice agriculture, is one option. Other approaches to improve water management in rice paddies include the use of methane-reducing bacteria, the use of organic soil amendments, and the implementation of precision irrigation.
4.  Pesticide and fertilizer use
Ofada rice is generally treated with fertilizers and pesticides to increase yields while defending it against pests and diseases.
When used irresponsibly, pesticides and fertilizers can harm the environment.
Pesticides can harm beneficial insects and other species as well as pollute water sources. If fertilizers are applied excessively or if they run off into surrounding bodies of water, they may also harm the water quality.
Farmers should carefully read and follow the directions on the labels of pesticides and fertilizers, using only what is necessary to produce the desired results.
Additionally, farmers can reduce the need for chemical inputs by implementing best management practices such as employing cover crops, crop rotation, and appropriate soil management.
Alternative strategies for managing pests and diseases exist as well, like integrated pest management (IPM). To control pests and diseases, IPM employs a variety of strategies, including cultural practices and natural predators. This may reduce the need for chemical fertilizers and pesticides, which may be detrimental to both the environment and human health.
Conclusion
Overall, how Ofada rice is grown and managed affects how much of an impact it has on the environment. Production of Ofada rice can have a minimal negative impact on the environment if sustainable agricultural techniques are used, such as precision irrigation, water conservation, and using less pesticides and fertilizers.
The efficiency of Ofada rice production can also be increased, and the environmental effects can be minimized, by encouraging the implementation of innovative technology like precision agriculture.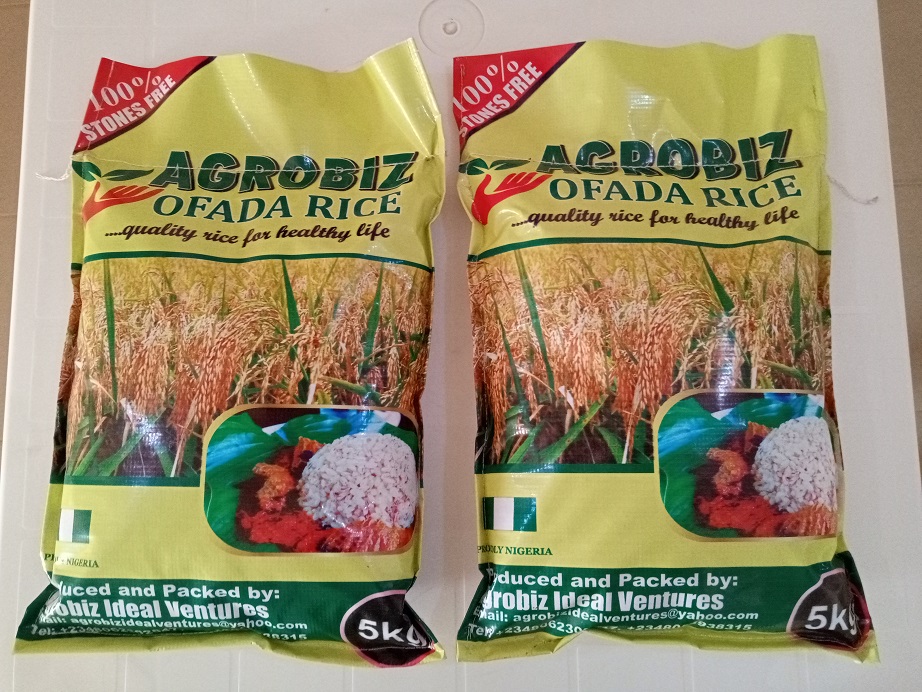 To buy your Original destoned Ofada Rice and delivered to you any where is Nigeria Call or whatsapp 0806077920
Price:  N6000 for 5kg– you can only request for minimum of 10packs and above.
             N55,000 for 50kg
Office for pick up: No 17, community Avenue, ilupeju Magboro, beside Tallmania Hotel, Lagos-Ibadan express way.
Call/WhatsApp 08060779290
Read Also:
KULI-KULI PRODUCTION BUSINESS PLAN IN NIGERIA