#Ensure You Check the Bonus at the bottom of this article
Do you need a grant for your business?
Check this:
25 BUSINESS IDEAS FOR UNIVERSITY STUDENTS IN NIGERIA
Ever been seriously broke in school? If your answer is yes, you're not alone. Imagine the combination of being in school and being broke. Stressful right? Seeing that the Nigerian system doesn't really facilitate working and schooling at the same time, life can be at the very best hard for university students, and frustrating at worst. Given the alarming rate of unemployment of college graduates in the country, setting and establishing financial goals while still in school is a wise decision.
There are so many options for financial empowerment available to help support university undergraduates while still in school and also to help determine a future source of income, once they become graduates. I'm going to take you through a number of options that can be useful to empowering you as a university student.
Here they are:
1. Tutoring. Are you skilled in teaching? Then you may want to deploy your skills into tutoring other students.  Thousands of them use this website. You can also make money and be useful… By starting a private tutoring business, you can offer coaching sessions in the evenings and late night when college students are often up reading and studying. You can advertise your services online and also using social media especially, or you can simply solicit referrals from students in campus.
2. Freelance writing. By now I'm guessing you know that most entrepreneurial moves usually reflects the unique skill set of the entrepreneur. So, if you're a skilled writer and you've got expertise in a particular niche, you can start taking freelancing jobs. You're at an advantage because you may not need to be in any required location to take freelance jobs. There are so many sites and blogs in need of freelance writers out there. So you can take your writing skill and start generating income for yourself.
3. Graphic design. With the increasing number of internet users in the country, graphic design has taken a centre stage in the capacity of creating new websites, creating blogs, graphics online. Graphic design plays a huge role in web designing for the creation of banners, logos, and other similar materials needed to maximize website design. As a student in Nigeria, you can generate a lot of money from a single job. You can also do offline jobs like designing logos, business cards, brochures for organisations
4. Ushering. A single ushering job can fetch as much as #30,000 in Nigeria. This job is a very lucrative one for students. Just sign up for ushering jobs online that is relevant to you and you can start making your money while running your education
5. Hair making. Another great way of making money while in school is making of hair, whether you're a guy or a lady, so long as you're skilled in hair making, it can be gainfully used to make money and generate income. Tell people by word of mouth what you do. Move into the female hostels and market yourself. Advertise using social media platforms and you're guaranteed to make lots of money as a student.
6. Sports training. If you're into sports and you're very good at a particular sport. You should probably consider becoming a sports trainer. You can organise a fitness club and enroll members who are supposed to pay some dues as a registration fee and other required fees before they can be registered. Imagine the kind of money you can make from this business. In a society where most people absolutely love sports and are passionate about it
Looking for a Sure Make Money Online Business opportunity to start?

Check this.

80 Things You Will Learn from 72IG Affiliate Marketing School, Digital Marketing Skill Development and Expertnaire Affiliate Implementation Programme. (Cost N65,000)
7. Blogging. This is a very good business for students to launch. And it is highly recommended for all students as it can expose them and increase their knowledge about a wide range of ideas and topics. You can make lots of money blogging about interesting topics that are educative, enlightening, and topics that meet specific needs of the readers. All you need is your laptop and access to the internet.
8. Event planning. Students can also go into event planning business. This is another easy way you can make money. Most events usually fall on weekdays, so this is recommended for students as it is flexible and relatively easy to startup and run.
9. Baking. Baking is a very lucrative business in any school environment, whatsoever because people love cakes! So if you're good at baking things. Start it immediately. You could even get a space within campus to showcase your pastries. You can bake cakes for occasions such as birthdays, wedding parties, shows and so on, the list is endless. Just grow your network and be good at what you do. Build an online presence and you may well be on your way to establishing yourself financially for life. This business needs creativity, which is what will sell you and make you desirable, creativity will endear you to your customers. Make cakes that appeal to different kinds of customers.
10. Tailoring. Can you sew good quality clothes? If yes. Then you can start your own tailoring business. With a fashion designing career, you can generate loads of money even while in school. All that is required is a sewing machine. If you don't have one, you could opt for hiring a sewing machine until you can afford to buy yours. Advertise your services online and on social media platforms. Paste notice bills in strategic places within and around campus and then inform your course mates. This is a very profitable business that can empower and enrich university students
11. Web design. Considering a career in web designing has huge benefits and also pays heavily. If you're not already skilled in this field, simply sacrifice sometime to learn it and as soon as you're skilled enough, you can take it to the next level. This business can generate good income for students who are industrious enough to take the plunge.
12. Bead making. Another trending business in the fashion industry, particularly among females is the making of beads into all types of wears and attires and also jewelry. Get trained on bead making and start earning lots of money. It is a very rewarding venture especially for university students.
13. Pencil drawing. Pencil drawing business is steadily gaining popularity among college students. And it also pays well enough. Nowadays most paintings are done using pencil drawing and it is really appreciated in schools. So if you're an artist and you're really good at pencil works, spread the word and start getting jobs. First you'll need to showcase your jobs online and on social media platforms like Facebook, Instagram and Pinterest . Post samples of your work in public places within school like food canteens, cafeterias, cyber cafes, business centres, lecture halls and so on. Just develop a good marketing plan and you'll be glad you ventured into pencil drawing business.
14. Cryptocurrency. You can also consider going into cryptocurrency investment business. There are so many cryptocurrencies in the market. The most common being the Bitcoin. Investing in cryptocurrency yields very high profits.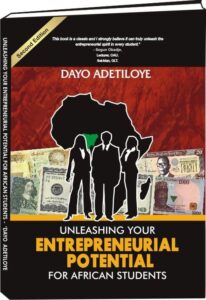 Buy the book titled: Unleashing Your Entrepreneurial Potential for African Students above on selar and get to pay in your local currency any where you are in the world. E.g (USD, GBP, NGN, GHS, KES, ZAR, TGZ & UGX) Click here buy and download https://selar.co/9bgf
15. Honey sales. Selling honey is not too common among students, but is recommended as a matter of fact. If you need to generate lots of money why not try selling honey? Simply getting a good supplier, preferably a bee keeper around you. Buy or acquire containers to store the honey and then you're in business. Its really simple. You can target selling to students in hostels within campus and off camp. Its actually a fun and rewarding money making idea for university students in Nigeria.
16. Sale of artwork. Another lucrative business to consider as a student is the sales of artwork within the university campus. This business is particularly suited to students in the arts department or those with artistic skills. If you're skilled in painting, sculpturing, drawing etc. Redirect these skills into a business venture. You could even organise mini exhibitions where other students can see your artworks and also make sales.
17. Stand up comedy.we have so many talented comedians in universities who are not fully exploring the possibilities of making money from their gift. If you fall under this category of persons, you should consider going into stand up comedy. You can organise your own shows within and off campus. A student with good financial management skills is guaranteed to become quite rich.

18. Retailing hair products. This business empowered me when I was in school. Unarguably women and females generally spend more money in self beautification than their male counterparts. As a university student looking for a good business to startup, considering retailing of hair products is one of the best decisions you can ever take in your life, trust me. You can retail hair extensions, hair cream, hair shampoos and conditioners, hair treatment products, hair accessories and a wide range of hair products. It is a very profitable business that is highly recommended for students regardless of gender. Market your products in school hostels, in your church, in classrooms after lectures, and even on social media, particularly WhatsApp and Facebook. Take my advice, this business can enrich you. You'll never lack cash with hair products retailing in school.
19. Production of skin naturals. Skin naturals are skin products that are made locally using natural ingredients like original coconut oil, aloe Gera, Shea butter, olive oil and the likes of them. Girls in hostels who have tried a wide range of skin care products to beautify and tone their skin to no avail are now opting for naturals, thus this business is currently in demand now among female students. You can help solve this problem by getting some training on how to produce natural skin products and start marketing them to make money.
20. Buying and selling on e-Bay. You should also consider venturing into buying and selling a wide range of products on e-bay. E-bay is an internet platform where you can carry out commercial transactions like buying and selling of anything at all that can be sold. You will need to first sign up for their services, and follow any requirements as far as the platform is concerned.
PROMO ENDS IN 3DAYS: How to write a Business Plan and Make Money From it – Training Course [with over N650k Bonus Training Materials] Just for N10,000 (INSTANT DOWNLOAD) 
21. Sales of footwear. As earlier stated, females are very fashion conscious and are always looking for new and better ways to improve their image. The same is true for ladies in universities who are ever conscious of their physical appearance. And as such, it will be very profitable and a smart thing to go into selling of all kinds of footwear's for students. Start retailing male and female shoes,( particularly females) sandals, slippers, Pams, belts, flip flops etc. Its a flexible business and any student interested in doing it can easily combine it with their studies, of course you Don't need a shop space, just move around with your goods for marketing.
22. Social media influencing. Another great way of making money while in school is social media influencing. Social media influencing is a form of advertising on social media. In this case, people with a large following on social media use this medium to reach out and advertise products and services of contracting companies. So, if you're a social media influencer, you can be contracted by a company or companies, to advertise their products or services. This is a really cool, laid-back way of making money for students. Try it!
23. Open a canteen. This is a great way of making serious money in school. However, the startup phase can be time demanding. To solve this problem, employ at least two extra hands for a smoother running of the business. Food business is the surest way of making huge earnings in school and comes next to nothing.
Click here to get our business plan writing Course and become a highly paid business plan writing consultant https://www.dayoadetiloye.com/bpp/
24. Real estate agency. You can also become a real estate agent as a student, as it is really flexible and pays well too depending on your sales outcome.
25. Phone and computer repairs. This business is thriving and generating income for people. So, if you're skilled in phone and computer repairs. Its good news. Just get a small space in campus, if you want, but its really not necessary, with a good marketing strategy in place, you may not need to be fixated on any particular location.
Do you need a grant for your business?
Check this:
Join our Facebook Community Group to learn more about Business development and Grant Opportunities  https://web.facebook.com/groups/dayohub
BONUS
​
Don't Start a Business as a Student without reading the Book below.

It will help you become the great Student Entrepreneur of your dream. You will learn how to combine academics with business. I wish i have access to it when i was a student.

The price is N1000.
Buy the book titled: Unleashing Your Entrepreneurial Potential for African Students above on selar and get to pay in your local currency any where you are in the world. E.g (USD, GBP, NGN, GHS, KES, ZAR, TGZ & UGX) Click here buy and download https://selar.co/9bgf
Here is my video review of the book. Click below and watch
Recommended  Opportunity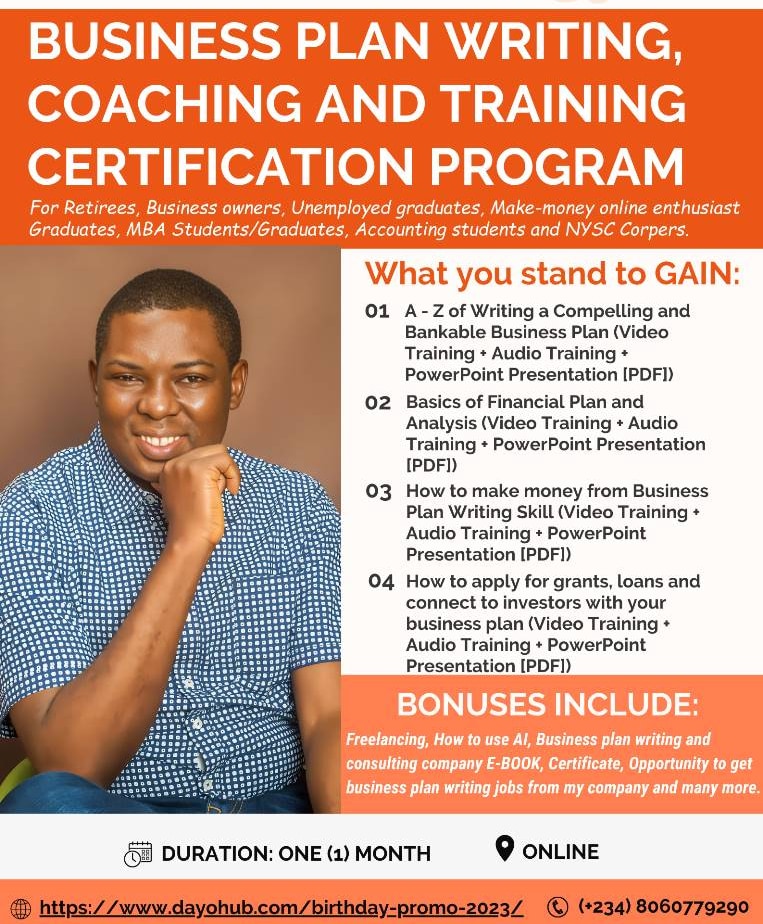 Read more Here and apply for my Business Plan writing, coaching and certification Training programme